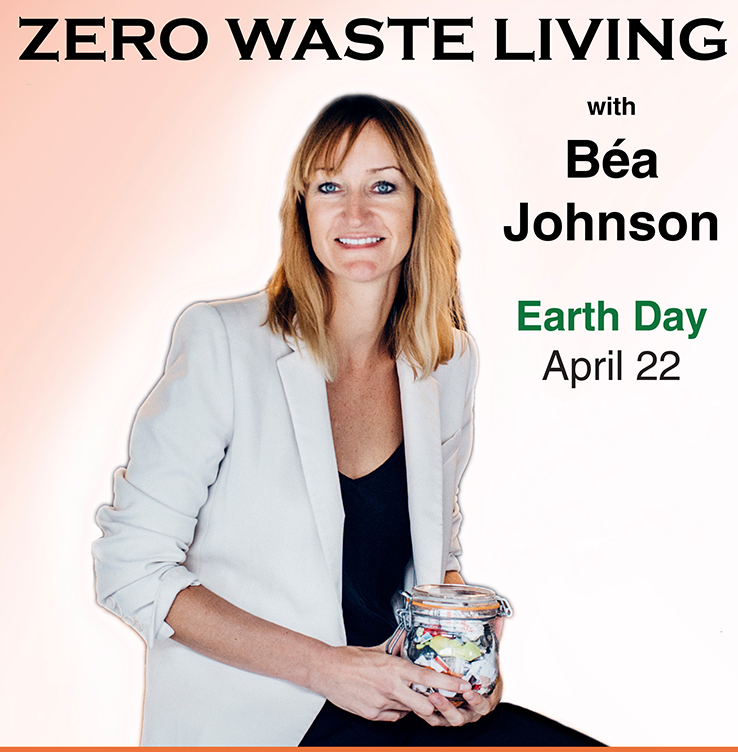 Since 2008, Béa Johnson and her family have embraced a zero waste lifestyle, producing one jar of trash per year.
With her blog and bestselling book Zero Waste Home, translated into more than 25 languages, Béa launched a global movement.  Dubbed "The Priestess of Waste-Free Living," by the New York Times, Béa is the leading spokesperson for this lifestyle.  Come hear Béa speak at MIIS this Earth Day!
Zero Waste Living with Béa Johnson
Monday, April 22nd (Earth Day!)
2:00pm-3:30pm
MIIS campus, Morse Building, Room B104
426 Van Buren Street, Monterey, CA
No pre-registration required
Can't catch the 2pm lecture?   Catch her 7pm talk at the Monterey Bay Aquarium
Monday, April 22nd (Earth Day!)
7:00pm-8:30pm
Monterey Bay Aquarium Auditorium
886 Cannery Row, Monterey, CA 93940
Free, but Registration Requested
Register here:  Zero Waste Living Talk at Monterey Bay Aquarium
About the Speaker
Béa has inspired hundreds of thousands of people to adopt waste-free living, opened unpackaged shops, conceived of reusable products, and launched organizations. Leading spokesperson for the zero waste lifestyle, she has completed seventeen international speaking tours and given talks in 60+ countries on 6 continents. She has been featured on TV shows and in publications all over the world and is a Grand Prize winner of The Green Awards. She is a French native who currently lives in Mill Valley, California.
In a visually-rich and upbeat presentation, Béa shares her tribulations and secrets to achieving Zero Waste. She covers the importance of applying 5R's in order (Refuse, Reduce, Reuse, Recycle, Rot) and shatters misconceptions, proving that the Zero Waste lifestyle can not only be "stylish", but also lead to significant health benefits, and time and money savings. She manages to talk about her personal journey with humor and without preaching. She brings an intimidating topic down to a manageable scale, lending a unique perspective and making Zero Waste less daunting. Her non-judgmental approach will inspire your audience to reflect on their lives and change their own habits. Béa talks about her lifestyle with passion and provides many practical solutions to living simply and reducing waste. The environmentally unaware and eco minded alike discover a whole world of possibilities. Rest assured that you will leave inspired! 
Related Link/Pre-Reading
Lecture Location—Morse Building, Room B104
On the campus of the Middlebury Institute, the Morse Building, Room B104, is located at 426 Van Buren Street, Monterey, CA.  Attendees will come up the breezeway between the Student Services building and Morse Building, and room B104 will be on the right, just past the first stairwell.   Wheelchair access by going around the Student Services building through the Holland courtyard. 
Parking
Parking is available on the streets surrounding the venue (strict two-hour time limit enforced).  There are city lots nearby that can be paid via parking meter, or free parking available on the streets in the neighborhoods above Van Buren Street (two to three blocks up the hill from venue).
Questions
Contact Rachel Christopherson at the Center for the Blue Economy at cbe@miis.edu or (831) 647-4183.