Support the Institute
Carl Fehlandt Scholarship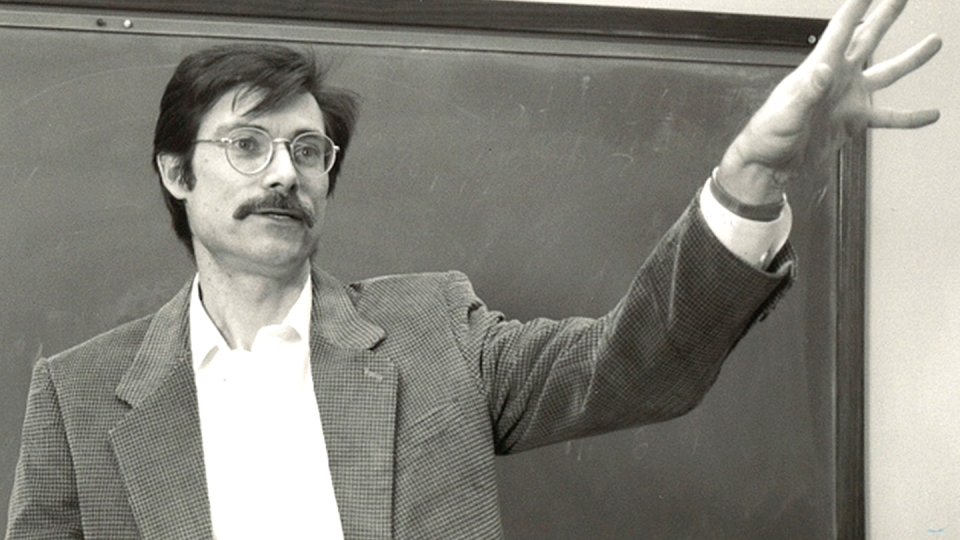 Professor Carl Fehlandt left a lasting legacy on the Institute's translation program and through the memories of those who knew him.
To ensure his legacy lives on through the work of future students, we ask for your support in funding the Carl Fehlandt Endowed Scholarship.
Remembering Carl Fehlandt
Carl is remembered for the countless lives he touched during his almost 40 years at the Institute. He began his tenure as a student and went on to teach Spanish Translation and Interpretation from 1974 onward. "Carl was a pillar of the translation program. He was more passionate about translation and language than any person that I have ever met. He shared that passion for decades with his students and colleagues and has shaped the professional practice of translators and interpreters," says Carl's colleague and former student Professor Barry Olsen.
The Scholarship
To honor Carl and his teaching career, family and friends have funded the Carl Fehlandt Endowed Scholarship, which provides support for Translation and Interpretation students well into the future. This is the first endowed scholarship specifically supporting Translation and Interpretation program students. You can continue to support this scholarship. Please make a gift today in memory of Professor Fehlandt. Visit the secure online giving site below and consider setting up an automatic monthly gift to make an even bigger impact.
Thank you to our supporters:
Leadership Donors (Gifts of $1,000+)
Katharine Allen '08
Chuanyun Bao and Xiaoxia Chen
Verena and Timothy Boylan
Christine Pearson Casanave '77
Certified Languages International, Inc.
Emma Claggett '05 and Peter Gehret '05
Conference Rental
Judith Dauphinais '75
Mildred Elias '97
Covandonga and Benjamin Engelsberg '13
John Gardella
Gregory Holt '89
Carmen Ibarra '13
InterpretAmerica LLC
LanguageLine    
Finn Longinotto '75
Sean Madden
Ewandro Magalhaes Jr. '08
Holly Mikkelson '76
Andrew Murphy
Barry Slaughter Olsen '99
Ortiz Schneider Interpreting and Translation
Lorena Ortiz Schneider '93
Victoria '73 and Carl Palminteri '75
Kristin Quinlan
Frank Schramm '82
Paul Tryon
Bill Weber
Individuals and Corporations
Anonymous
Nina Abud '98
Anita Collazo Ageitos '09
Celeste and Ousama Akkad '75
Katherine Albrecht '75
Lauren Ames '13
Atlas Language Services, Inc.
Sabela Avion-Martinez '01
Michele Bantz '05
Wesley Bartlett
Margot Black '83
William Bodenstab
Natasha Bonilla '02
Barbara Brister '86
Laura Burian '98
Anthony Carrelli
Martha Casanave '69
Patricia Coffin '75
Shirley and Edgard Coly
Brit Courtney
Daniel Decamp
Valeria Delmar '10
Christina Dolvin '06
Seamus Dorrian and Stephanie Anabo
Michael Doud '81
Neva Duffy '05
Tim Dwyer '76
Joanne Egnatchik '08
Paul Fontes
Michael Gillen '81
Arthur Goldman '75
Leah Gowron '97
Karen Gross '86
Jacolyn Harmer '00
Jessica Heilman '02
Rachel Herring '01
Magdy Ibrahim '85
Julie Johnson '89
Renée Jourdenais
John Kastning '05
Rosalia Kavenoki
Laura Kiernan '09
William Kiernan
Fredric Kropp and Maureen Manning
Sieun Lee ''08
Serena Lewis
Elizabeth Lichter '83
Pablo Salvador Lopez '11
Anna Mason '10
Trisha Bennett Mayer '84
Donna Mellen '76
Jay Mirsky '76
Eugene Moniz '76
Pascale Montredon '86
Philip Murphy
Adele Negro '99
Maria Isabelle Noel '01
Amanda Pease '06
Gary Pezzi
Vicki Hain Poorman '85
Varna and Sunder Ramaswamy
Philip Rodriguez '12
Marina Romani
Vera Ruangtragool '09
Hideko '92 and Dana Russell '93
George Sallay
Barbara Schmidt '89
Gretchen Schnabel '81
Barbara Smythe
Travis Sorensen '99
Daniel Tamayo '12
Lisa Tenover
Amy Vargas '84
Laura Vlasman '83
Kelly Washbourne '90
Donna Webking '76
Claudia Weinmann '94
J. R. Williams '93
Ellen Wingo '07
Jeffrey and Katherine Wood
Pamela Wootten '96
Susan Young
Scott Yusman '03
ZipDX LLC