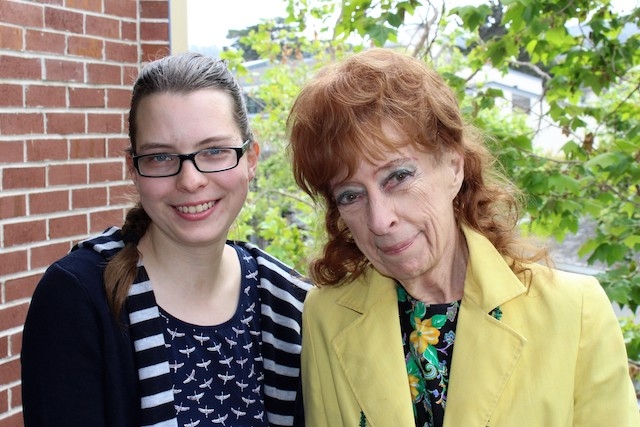 Katharina Gruenwald, a third-semester International Policy and Development Program student, was selected as the first-ever Amnesty International USA Fellow, funded by the Jan Knippers Black Fund for Human Rights Protection.
Katharina, known as Kat, will intern this summer at Amnesty International's headquarters in Washington, D.C. In this role, she will assist the organization in its priority campaigns to address the global refugee crisis, gun violence, and protection of human rights defenders around the world.  Her fellowship responsibilities will include research, communications, and attending Congressional hearings.
The fund, established last year by Professor Jan Knippers Black, with support from her many friends, colleagues, and Institute alumni, promotes annual events and activities in collaboration with Amnesty International USA. Jan Black, a first-generation Peace Corps volunteer in Chile and an Amnesty International board member, began teaching at MIIS in 1991, and ever since, has been tireless in  mentoring budding professionals in human rights work and fostering in them a passion for human rights protection.
At the launch of the Jan Knippers Black Fund last fall, Margaret Huang, executive director of Amnesty International USA, described Jan as "the fairy godmother of human rights, because you never know where she is going to show up. There is no question she has covered the most far-fledged corners of our world, shaking her fist at dictators and authoritarian regimes and inspiring young people to take action."
A cause and purpose
As the first Jan Black Amnesty International USA Fellow, Kat is a natural.  A self-described advocate and protector of human rights and gender equality, her passion and dedication mirror that of Jan.  As a teenager, Kat envisioned a career in journalism, as she admired the power of storytelling and considered freedom of the press critical to just governance.  Her views changed, however, as a history and journalism undergraduate at Iowa State University, as she grew disenchanted with what she viewed as declining journalistic ethics in a saturated and competitive news market.
"I reevaluated my goals," she said, "and saw I could fulfill my passion for protecting and advocating for human rights and gender equality through a different lens." That's what led Kat to MIIS to begin pursuing a master's degree to allow her to work in the non-profit world.
Making a difference
Kat, who hails from the midwest region of Germany, received her high school, college, and now graduate education in the United States.  Besides her coursework, she spent last summer as a research associate with the Mixed Method, Evaluation, Training and Analysis (META) Lab, working with the Gathering for Women Project to support homeless women in Monterey County. Through this experience, she gained valuable professional experience which furthered her interest in women's rights and gender equality.  Now, she is especially grateful to be the first Jan Knippers Black Amnesty International USA Fellow and looks forward to follow in Jan Black's footsteps by contributing to the fight for global human rights this summer and beyond.