Irina Zorina
Faculty Member, Prose and Russian Translation, Oxford University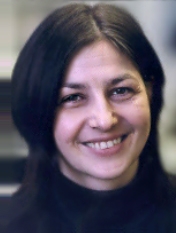 Irina Zorina, since 2004 teaches Prose classes (translation of English prose into Russian) and Russian, including cultural analysis of Russian texts at the University of Oxford.
Graduated from the philological faculty of Moscow State University (MGU). Specializations: English and Scandinavian literature. In 1986-1990 worked as a curator of joint cultural projects between Russia and Scandinavian countries. For promotion of modern Scandinavian literature in Russian speaking countries received several awards, including The Swedish Ministry of Culture Award, The Award of the Finnish Literature Society and The Danish Ministry of Culture Award. In 1993 was a columnist of the Swedish newspaper "Hufvudstadbladet" (Helsinki).
In 1994-2004 was a director of the Russian program of the international non-governmental organization "Civic Education Project", which supported humanities in the universities of the former Soviet Union and Eastern Europe.
Translated a number of books from English and Scandinavian languages, among which are "Comrade Pavlik: The Rise and Fall of a Soviet Boy Hero" by Catriona Kelly (from English) and "Sommarboken" by Tove Jansson (from Swedish).