From Advocating for Access to Healthy Foods in California to Fighting Slavery in Chocolate Supply Chain, Ms. lauren Ornelas
–
Online
Free
Open to the Public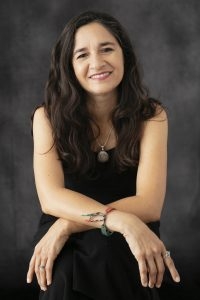 With so many issues facing our society, it is easy to feel powerless.  The Food Empowerment Project seeks to create a more just and sustainable world by recognizing the power of one's food choices. lauren Ornelas, the Founder and President of the Food Empowerment Project, will address how making informed, ethical food choices can change the world, one meal at a time.
From Advocating for Access to Healthy Foods in California to Fighting Slavery in Chocolate Supply Chain
Speaker: lauren Ornelas
Tuesday, September 22, 2020
12:30 PM to 1:30 PM Pacific Time
Middlebury Institute of International Studies
Online via Zoom 
Video Available
About the Speaker
lauren Ornelas is F.E.P.'s founder and president.  lauren  (L purposefully lower case) has been active in the animal rights movement for more than 30 years. She is the former executive director of Viva!USA, a national nonprofit vegan advocacy organization that Viva!UK asked her to start in 1999. While lauren was the director of Viva!USA, she investigated factory farms and ran consumer campaigns. In cooperation with activists across the country, she persuaded Trader Joe's to stop selling all duck meat and achieved corporate changes within Whole Foods Market, Pier 1 Imports, and others, and she helped halt the construction of an industrial dairy operation in California. lauren was also the spark that got the founder of Whole Foods Market to become a vegan. In addition, she served as campaign director with the Silicon Valley Toxics Coalition for six years. 
Learn More:  Watch lauren's TEDx talk, The Power of Our Food Choices or visit the Food Empowerment Project website
Lecture Location:  Online via Zoom
Link to Join: from PC, Mac, Linux, iOS or Android: Sustainability Speaker Series, Fall 2020
    Password Required:   IdeasHeal
Or iPhone one-tap :
    US: +16699006833"92687052609#  or +13462487799"92687052609#
Or Telephone:
    Dial(for higher quality, dial a number based on your current location):
        US: +1 669 900 6833  or +1 346 248 7799  or +1 253 215 8782  or +1 301 715 8592  or +1 312 626 6799  or +1 646 876 9923
    Meeting ID: 926 8705 2609
    Password for Phone: 192459570
    International numbers available: https://middlebury.zoom.us/u/aFcSlxiu6
Please note:   We will be filming the Zoom meeting with the permission of each speaker; if filming, attendees who participate in the Q&A portion with audio or video consent to be filmed; We reserve the right to exclude disruptive participants  
Questions
The Center for the Blue Economy is a research organization at the Middlebury Institute of International Studies.  Our mission is to promote a sustainable ocean and coastal economy (the "Blue Economy") through leadership in research, analysis, and education.  For questions contact: Rachel C. at cbe@miis.edu or visit centerfortheblueeconomy.org or call 831-647-4183 (must leave message and receive call back).