Antarctic Marine Protected Areas: Biodiversity and Diplomacy in the Global Ocean Commons
–
Online
Free, Open to the Public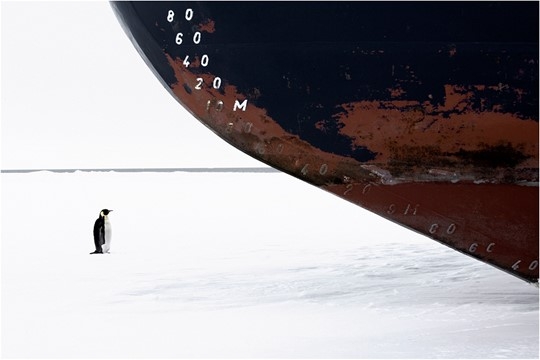 Antarctica is exceptional. The coldest, windiest, iciest, driest, and most remote of continents is widely celebrated for its rich history of exploration, science and diplomacy and for its exceptional beauty. It's also exceptionally important.
Antarctic Marine Protected Areas:
Biodiversity and Diplomacy in the Global Ocean Commons
Dr. Cassandra Brooks, Assistant Professor,
Environmental Studies, University of Colorado Boulder
Tuesday, September 14, 2021
6:00pm to 7:00pm Pacific Time
Online via Zoom (details below)
Video Available:
About the Topic
Since its discovery, scientists have documented how the Antarctic is vital to Earth systems. And despite the extreme environment, life thrives in incredible abundance. The freezing Southern Ocean that surrounds the Antarctic continent teems with whales, seals, penguins, toothfish, and krill. This frozen seascape harbors some of the last remaining great wildernesses on the planet. However, fishing pressure – mostly for krill and toothfish – combined with cumulative impacts of climate change, jeopardizes the future of Antarctic life in the Southern Ocean. Extensive research supports that protected areas – areas that are off-limits to fishing and other human activities – can conserve biodiversity, and perhaps most importantly in the case of the Southern Ocean, can enhance resilience to climate change impacts. In 2016, states made history by designating the world's largest marine protected area in the Ross Sea, Antarctica. This demonstrated international leadership and inspired hope that despite political tensions in other parts of the world, the Antarctic continues to be a great global commons dedicated to peace, science and conservation. Despite working towards adopting an Antarctic-wide network of marine protected areas, conflicting economic and geopolitical interests have become a barrier in recent years. However, three additional large-scale Antarctic protected areas remain under discussion, with negotiations resuming in October 2021 providing an opportunities for states to again demonstrate leadership. 
About the Speaker
Cassandra Brooks is an Assistant Professor in Environmental Studies at the University of Colorado Boulder. She draws on a diversity of disciplines including marine science, environmental policy, and science communication to study and seek solutions to pressing environmental problems. She has a fierce passion for Antarctica, with the last fifteen years of her career focused on marine science and conservation in the region.
Recommended Pre-Reading
Zoom Link
Center for the Blue Economy Speaker Series   
Password: HappyOcean
Meeting ID:  913 5122 5266
Or Telephone:  US: +1 669 900 6833  or +1 253 215 8782  or +1 346 248 7799  or +1 301 715 8592  or +1 312 626 6799  or +1 646 876 9923
    Meeting ID: 913 5122 5266
    Phone Password: 7362729534 (No participant ID, press # to bypass)
    International numbers available: https://middlebury.zoom.us/u/aezDx4SoHL
Please note:   We will be recording this lecture to post to the Center for the Blue Economy YouTube and here on this webpage.  Participants will be notified upon joining the meeting that it is being recorded, and must consent to participate.  We reserve the right to exclude disruptive participants.   
Questions
The Center for the Blue Economy is a research organization at the Middlebury Institute of International Studies.  Our mission is to promote a sustainable ocean and coastal economy (the "Blue Economy") through leadership in research, analysis, and education.  For questions contact: Rachel C. at cbe@middlebury.edu or visit centerfortheblueeconomy.org or call 831-647-4183 (must leave message and receive call back).