Building Resilience in a California Coastal Estuary
–
Online
Free, Open to the Public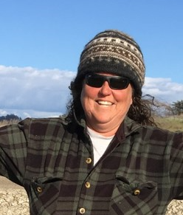 Over the past 150 years, human actions have altered the tidal, freshwater, and sediment processes that are essential to support and sustain Elkhorn Slough, a wetland in Monterey County that is both nationally and internationally significant.
Building Resilience in a California Coastal Estuary
Monique Fountain,Director of the Tidal Wetland Program,
Elkhorn Slough National Estuarine Research Reserve
Tuesday, November 16, 2021
6:00pm to 7:00pm Pacific Time
Online via Zoom (details below)
Video Available
About the Topic
Large areas of tidal marshes were diked and drained in the 20th century, and Elkhorn Slough was no exception. This caused subsidence and when dikes failed:  the areas were too low to support a healthy marsh. In these previously diked areas, the salt marsh habitat is almost entirely gone with just sparse fringing marsh in narrow bands along the shoreline and on dikes still high enough to have infrequent tidal inundation. In addition to this habitat degradation, modeling suggests most of Elkhorn Slough's remaining marshes will be lost within 50 years due to sea-level rise. The 65-acre Hester marsh restoration project is the first large scale restoration of its type in this estuary.  Over 200,000 cubic yards of soil were needed to bring the marsh up to a sustainable elevation, high in the tidal frame. Restoring this degraded habitat took many hands from planning to planting and highlights the importance of a collaborative, interdisciplinary approach to restoring sustainable habitat for the future.
About the Speaker
Ms. Fountain is the Director of the Tidal Wetland Program (TWP) at the Elkhorn Slough National Estuarine Research Reserve, located along the edge of Monterey Bay, CA. TWP brings science to coastal decision makers using a collaborative and interdisciplinary approach that has regularly engaged over 100 stakeholders since 2004. Over the last ten years TWP's focus has included fundraising, designing, permitting, and implementing several large-scale restoration projects in Elkhorn Slough.
Suggested Pre-Reading
Zoom Link
Center for the Blue Economy Speaker Series   
Password: HappyOcean
Meeting ID:  913 5122 5266
Or Telephone:  US: +1 669 900 6833  or +1 253 215 8782  or +1 346 248 7799  or +1 301 715 8592  or +1 312 626 6799  or +1 646 876 9923
    Meeting ID: 913 5122 5266
    Phone Password: 7362729534 (No participant ID, press # to bypass)
    International numbers available: https://middlebury.zoom.us/u/aezDx4SoHL
Please note:   We will be recording this lecture to post to the Center for the Blue Economy YouTube and here on this webpage.  Participants will be notified upon joining the meeting that it is being recorded, and must consent to participate.  We reserve the right to exclude disruptive participants.   
Questions
The Center for the Blue Economy is a research organization at the Middlebury Institute of International Studies.  Our mission is to promote a sustainable ocean and coastal economy (the "Blue Economy") through leadership in research, analysis, and education.  For questions contact: Rachel C. at cbe@middlebury.edu or visit centerfortheblueeconomy.org or call 831-647-4183 (must leave message and receive call back).