Centering Racial Equity in Policy, Mr. Alvaro Sanchez
–
Online
Free
Open to the Public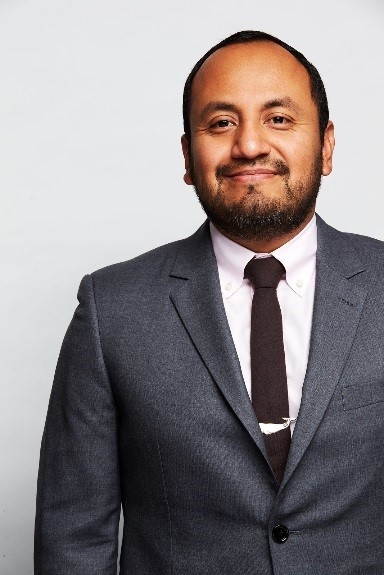 Mr. Alvaro Sanchez, Director of Environmental Equity at the Greenlining Institute, will address the root causes of racial injustice and what it will take in order to achieve transformative change that leads to positive outcomes for all people, the planet and shared prosperity.
Centering Racial Equity in Policy
Lecture and Discussion
Mr. Alvaro Sanchez, Director, Environmental Equity, The Greenlining Institute
Thursday, October 29th, 2020
12:30pm to 1:30pm 
Online via Zoom
Video Available
About the Speaker
Alvaro S. Sanchez is an urban planner with extensive experience crafting, implementing and evaluating strategies that leverage private and public investments to deliver benefits to priority communities. Alvaro is The Greenlining Institute's Director of Environmental Equity. He leads a team that develops policies to improve public health, catalyze economic opportunity, and enrich environmental quality for low-income communities and communities of color by leveraging public resources that address pollution, fight climate change, and helps vulnerable communities adapt to a changing environment.  Alvaro oversees Greenlining's climate equity portfolio including monitoring the implementation of the Greenhouse Gas Reduction Fund, SB 535 (De Leon, 2012), and AB 1550 (Gomez, 2016), and implementation of Greenlining's Making Equity Real frameworks on equitable and clean mobility, climate adaptation and resilience, and creating an equitable economy.
Prior to joining Greenlining, Alvaro led Green For All's stormwater infrastructure strategy. As a member of the State and Local Initiatives team, he led the organization's strategies for connecting impacted communities to economic opportunity related to national stormwater infrastructure investments. He wrote several reports detailing the untapped opportunity of using green infrastructure as a cost-effective stormwater management tool that creates job and business opportunities for underserved communities. Several leading water and stormwater utilities throughout the country have used the framework he presented to deliver triple-bottom-line benefits.
In 2011 he received a Master of Planning degree from the University of Southern California, where he focused on affordable housing and economic development. Alvaro, who believes you can never be too wonky, lives in North Oakland, grew up in Los Angeles, and was born in Mexico City.
Suggested Reading
Reimagining Normal:  If Not Now, When?
Greenlining the Recovery and Long-term Community Resilience
Lecture Location:  Online via Zoom
Link to Join: from PC, Mac, Linux, iOS or Android: Sustainability Speaker Series, Fall 2020
    Password Required:   IdeasHeal
Or iPhone one-tap :
    US: +16699006833"92687052609#  or +13462487799"92687052609#
Or Telephone:
    Dial(for higher quality, dial a number based on your current location):
        US: +1 669 900 6833  or +1 346 248 7799  or +1 253 215 8782  or +1 301 715 8592  or +1 312 626 6799  or +1 646 876 9923
    Meeting ID: 926 8705 2609
    Password for Phone: 192459570
    International numbers available: https://middlebury.zoom.us/u/aFcSlxiu6
Please note:   We will be filming the Zoom meeting with the permission of each speaker; if filming, attendees who participate in the Q&A portion with audio or video consent to be filmed; We reserve the right to exclude disruptive participants.  
Questions
The Center for the Blue Economy is a research organization at the Middlebury Institute of International Studies.  Our mission is to promote a sustainable ocean and coastal economy (the "Blue Economy") through leadership in research, analysis, and education.  For questions contact: Rachel C. at cbe@miis.edu or visit centerfortheblueeconomy.org or call 831-647-4183 (must leave message and receive call back).