Ceremonial Fire, Land and Cultural Resource Restoration, the Honorable Ron W. Goode
–
Online
Free
Open to the Public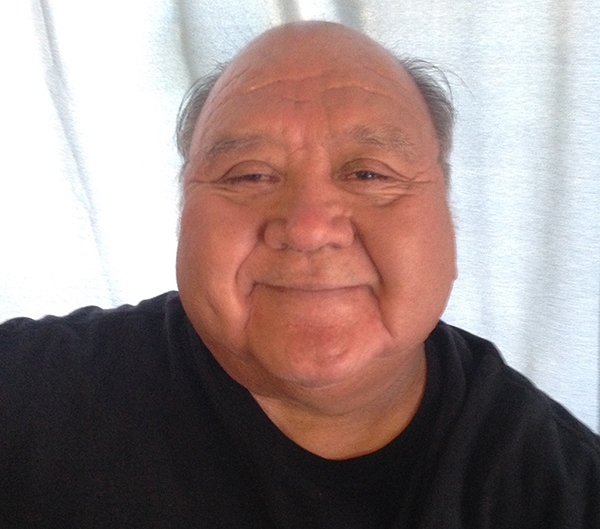 Fire, water, sun, and earth are all inter-related and intertwined, therefore are dependent upon each other. When fire is put upon the land, the cultural resources are rejuvenated, new life, and medicines that are essential to all species health are returned.
Ceremonial Fire, Land and Cultural Resource Restoration
Lecture and Discussion
Speaker:  The Honorable Ron W. Goode, Tribal Chairman of the North Fork Mono Tribe
Thursday, September 24, 2020
12:30pm to 1:30pm Pacific Time
Online via Zoom (details below)
Video Available
About the Topic
Spirituality of Culture is the understanding the relationship between human, animals, plants, and the elements. This relationship stems from the fact we are all a community that has to work together because we all depend upon each other. Fire, water, sun, and earth are all inter-related and intertwined, therefore are dependent upon each other. When fire is put upon the land, the cultural resources are rejuvenated, new life, and medicines that are essential to all species health are returned. As our Creation stories remind us, when the Nium get their fires off the land, the water will rise up. Large trees are water suckers, they reach down 2 meters for water, plants and vegetation only can pull water from one meter, flowers and grasses need water within a foot to two feet. Therefore the water table must be raised for all to get a drink and stay fresh and healthy. When the brush is dying that is what contributes to the wildfires, when it is restored, it holds water and stays greener.
About the Speaker
The Honorable Ron W. Goode is the Tribal Chairman of the North Fork Mono Tribe.  He is a Veteran of the United States Army; a Life Member of the Sierra Mono Museum and of the United States Judo Federation. Ron holds a 6 th degree Black Belt in Judo and still enjoys teaching. He is also a retired Community College Prof. in Ethnic Studies. Ron was inducted in the Clovis Hall of Fame for his work in Education and Community Service in 2002. In 2006 he was selected as CA Indian Education Teacher of the Year and in 2006 and 2007 Mr. Goode was nominated for the Who's Who of America's Teachers. 
Mr. Goode is a published author, an ethnobotany book on native plants and resources: Cultural Traditions Endangered, 1992. A second book on cultural ecology is in the works. Ron is a co-author on other published books, journals, articles and curriculum, including a book on Black Oak Restoration with Dr. Jonathan Long.
In 2017-2018 Ron was the Coordinating Lead Author for the Tribal Indigenous Communities Climate Change Assessment as a new report of the California 4 th Climate Change Assessment.
Mr. Goode is also on the Native American Advisory Committee for the Department of Water Resources for the California Water Plan Update, and a co-founder and Summit Chair of the California State Agencies and CA Tribes - Water Summit for 2009, 2013 and 2018. 
Mr. Goode volunteers his time with five collaborative and tribal forums enhancing the ecological environment, watersheds, and cultural resources of the forests, Parks and tribal lands. Ron and his tribal members have been restoring cultural resource sites including meadows, oaks and cultural resources on Forest Lands over the past twenty-five years. In 2018 Ron and the Tribe negotiated a "Master Cost Share Agreement" with the Sierra National Forest, which will open up Cultural Burning practices and training certifications corresponding to the work they do on the Forest.
Mr. Goode and his tribal and ecological team, have been conducting Cultural Burns with Sequoia Park, Bass Lake Ranger District Sierra National Forest, Cold Springs Rancheria, Private and Tribal Lands in Mariposa with the Mariposa Miwok Tribe. Ron then takes their practical work and presents it at Universities, Colleges, Seminars, Webinars, via Zoom and other Internet venues. Ron's Journal writings and Webinar presentations have garnered world-wide attention.
 
Suggested Reading
Keep Connected
Lecture Location:  Online, Via Zoom
Link to Join: from PC, Mac, Linux, iOS or Android: Sustainability Speaker Series, Fall 2020
    Password Required:   IdeasHeal
Or iPhone one-tap :
    US: +16699006833"92687052609#  or +13462487799"92687052609#
Or Telephone:
    Dial(for higher quality, dial a number based on your current location):
        US: +1 669 900 6833  or +1 346 248 7799  or +1 253 215 8782  or +1 301 715 8592  or +1 312 626 6799  or +1 646 876 9923
    Meeting ID: 926 8705 2609
    Password for Phone: 192459570
    International numbers available: https://middlebury.zoom.us/u/aFcSlxiu6
Please note:   We will be filming the Zoom meeting with the permission of each speaker; if filming, attendees who participate in the Q&A portion with audio or video consent to be filmed; We reserve the right to exclude disruptive participants  
Questions
The Center for the Blue Economy is a research organization at the Middlebury Institute of International Studies.  Our mission is to promote a sustainable ocean and coastal economy (the "Blue Economy") through leadership in research, analysis, and education.  For questions contact: Rachel C. at cbe@miis.edu or visit centerfortheblueeconomy.org or call 831-647-4183 (must leave message and receive call back).