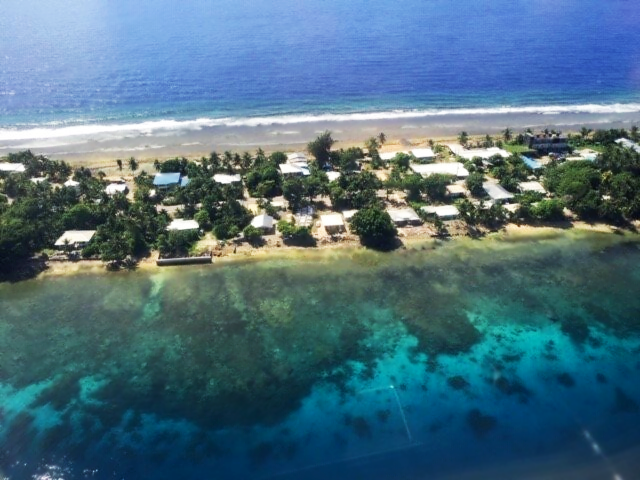 This guest lecture provided a broad overview of key climate change considerations relevant to the Pacific context.
Focus was placed on measures taken by the World Bank to assist countries to strengthen resilience to the myriad impacts of climate change.
Video of the Lecture
Climate Change in the Pacific, Ms. Cary Anne Cadman
Powerpoint Slides and Recommended Viewing
Slides: Climate Change in the Pacific, Ms. Cary Anne Cadman
Recommended Viewing: During her lecture Ms. Cadman mentioned a Frontline piece that tells the story of young people living on the Marshall Islands. The web-based story and video puts you in the shoes of those living on the islands. The Last Generation
About the Speaker
Ms. Cary Anne Cadman is the Environment Sector Coordinator for the Pacific Islands assisting World Bank clients to identify viable solutions to the myriad challenges faced in ensuring sustainable use of their environmental and natural resource base. Previously, she served as Environment Sector Coordinator for Indonesia providing technical leadership of the country's multi-sectoral ocean pollution and green growth agendas as well as managing the 20-member Environment and Social Safeguards teams. Prior to that, she was the Deputy Regional Safeguards Advisor for Sub-Saharan Africa overseeing environmental and social risk mitigation and due diligence of more than 800 operations in 47 countries, including 17 Fragile States. Ms. Cadman has worked directly in 19 countries, including seven Fragile States, across three regions (Sub-Saharan Africa, East Asia and the Pacific and Latin America and the Caribbean), leading regional, national and sub-national World Bank operations and high-level policy dialogue on forestry, fisheries, biodiversity, green growth, environmental risk mitigation and the blue economy. She has served on several Advisory Boards as lead strategist on blue economy and environmental risk management.
Lecture Location: McGowan 100
The McGowan Building is located at 411 Pacific Street, Monterey, CA, 93940, on the campus of the Middlebury Institute of International Studies. Attendees should enter through the glass doors on left from Pacific Street, and room 100 is located inside to the left.
Parking
Parking is available on the streets surrounding the venue (strict two-hour time limit enforced). There are city lots nearby that can be paid via parking meter, or free parking available on the streets in the neighborhoods above Van Buren Street (two to three blocks up the hill from venue).
Questions
Contact Rachel Christopherson at the Center for the Blue Economy at cbe@miis.edu or (831) 647-4183.