Making the Promise of Marine Protection Real
–
Online
Free, Open to the Public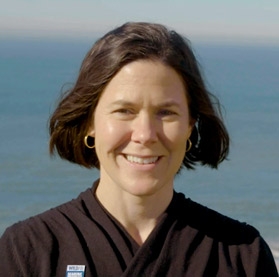 Well-managed marine protected areas (MPAs) and fisheries can protect coral reefs, rejuvenate marine wildlife and ecosystems, provide jobs, and feed billions of people worldwide. Despite their promise, MPAs and sustainable fishery efforts often struggle to achieve success due to a common problem – the lack of effective enforcement.
Making the Promise of Marine Protection Real
Commander Meaghan Brosnan, Marine Program Director, WildAid
Tuesday, November 30, 2021
6:00pm to 7:00pm Pacific Time
 
Video Available
About the Topic
Today, more than 60% of MPAs are not well-enforced and $23 billion is lost annually to illegal, unreported, and unregulated fishing. WildAid Marine is working with government, nonprofit, and community partners around the world to change this. In this presentation, WildAid Marine's Program Director, Meaghan Brosnan, will discuss her program's approach to designing and applying effective enforcement solutions to deter illegal fishing and strengthen the protection of priority marine areas around the world. Meaghan will offer an in-depth look at WildAid Marine's unique blueprint for marine enforcement, share case studies from around the world, and explore the ways in which strong enforcement can benefit endangered wildlife, marine ecosystems, fisheries, and coastal communities.
About the Speaker
As WildAid Marine's Program Director, Meaghan Brosnan is working to make the promise of marine protection real. She has worked for over 15 years to reduce illegal fishing activity around the world, and is an expert in domestic and international fisheries management, compliance, and enforcement. She spent four years at-sea enforcing fisheries law and served as the deputy chief of the Coast Guard's Living Marine Resources Enforcement program. Meaghan was also the lead manager of the Pew Charitable Trusts' End Illegal Fishing Campaign. Additionally, she founded Exulans, Inc., a global consultancy providing compliance and enforcement solutions for ocean conservation to governments, the private sector, and non-governmental organizations. In these roles, Meaghan has worked in collaboration with senior government leaders and diverse public and private sector organizations in East Africa, Southeast Asia, the Western and Central Pacific, Central America, and the United States. Meaghan continues to serve in the U.S. Coast Guard Reserve, leading an incident response team in the San Francisco Bay area.
Suggested Pre-Reading
Zoom Link
Center for the Blue Economy Speaker Series   
Password: HappyOcean
Meeting ID:  913 5122 5266
Or Telephone:  US: +1 669 900 6833  or +1 253 215 8782  or +1 346 248 7799  or +1 301 715 8592  or +1 312 626 6799  or +1 646 876 9923
    Meeting ID: 913 5122 5266
    Phone Password: 7362729534 (No participant ID, press # to bypass)
    International numbers available: https://middlebury.zoom.us/u/aezDx4SoHL
Please note:   We will be recording this lecture to post to the Center for the Blue Economy YouTube and here on this webpage.  Participants will be notified upon joining the meeting that it is being recorded, and must consent to participate.  We reserve the right to exclude disruptive participants.   
Questions
The Center for the Blue Economy is a research organization at the Middlebury Institute of International Studies.  Our mission is to promote a sustainable ocean and coastal economy (the "Blue Economy") through leadership in research, analysis, and education.  For questions contact: Rachel C. at cbe@middlebury.edu or visit centerfortheblueeconomy.org or call 831-647-4183 (must leave message and receive call back).