Picture of His Life; Photographer Amos Nachoum
–
McCone Irvine Auditorium
McCone Building
499 Pierce St
Monterey, CA 93940
View in Campus Map
$8-12 Film Ticket; $12 Reception Ticket
Open to the Public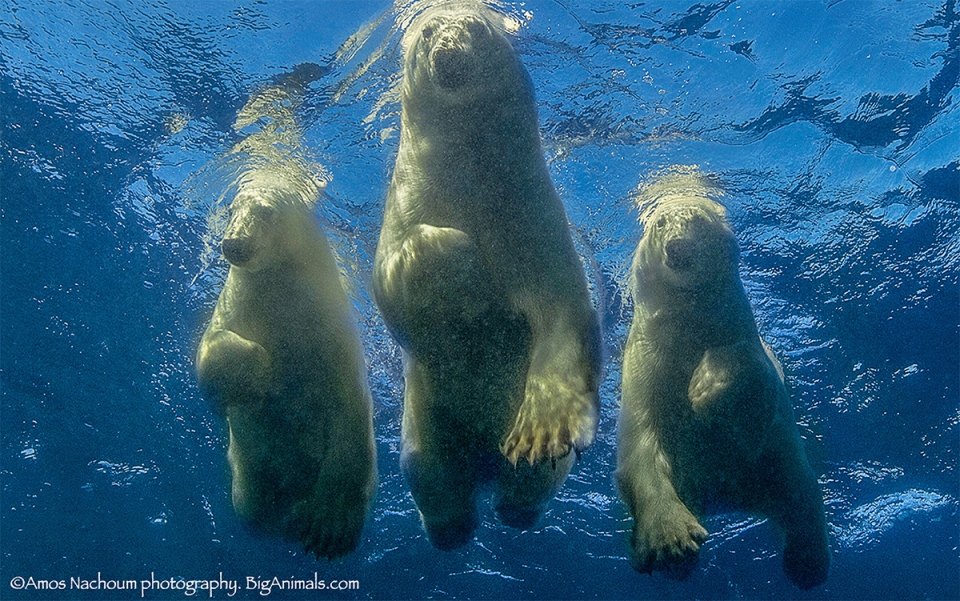 Amos Nachoum is one of the greatest underwater photographers of all time. Fascinated by the most fearsome creatures on Earth, he has developed a unique approach that puts him face to face with his subjects.
Now, at the age of 65, he has one final photographic dream remaining - to photograph a polar bear underwater, while swimming alongside it. The film follows Amos in the Canadian Arctic, as he prepares for his ultimate challenge. As the journey unfolds, so does an intimate and painful story of dedication, sacrifice and personal redemption.
The film is part of the Carmel Jewish Film Festival, in partnership with the Center for the Blue Economy and the Middlebury Institute of International Studies. A food and wine reception will precede the film, and a discussion with Amos Nachoum and filmmaker Dani Menkin will follow the screening. The discussion will be moderated by Dr. Brendan Kelly, Center for the Blue Economy Senior Fellow, veteran Arctic researcher, and Executive Director of the Study for Environmental Arctic Change.
Event Details
Picture of His Life
Saturday, March 9th, 2019
Irvine Auditorium
6:30pm Reception
7:30pm Film and Discussion
Film Tickets: $12.00 General Admission, $8.00 Students/Military 
Reception Tickets: $12.00
General Public:  Click to purchase tickets.
Middlebury Institute Students, Faculty, or Staff:  A limited number of free tickets for the film are available (reception is separate, requires donation).  Contact Rachel Christopherson at rchristo@miis.edu to claim free tickets.
About Amos Nachoum—Film Subject
Words will not do justice in describing the life and work of Amos Nachoum. His life has been spent photographing ocean giants and his iconic images have appeared in Time Magazine, Life Magazine, and the New York Times, just to name a few. See a photo collage hosted by Dive Photo Guide, and see Amos' own website to truly get a sense of his epic work. This film turns the camera on the photographer. Read more about Amos' life and see a picture of the man at the Jewish Film Festival website-Amos Nachoum.
About Dani Menkin—Filmmaker
Filmmaker Dani Menkin is a two-time Israeli Academy Award winner for 39 Pounds of Love and Is That You? His film 39 Pounds of Love has been sold to HBO and was shortlisted for the Oscars. Another of his award-winning films, Dolphin Boy (co-directed with Yonatan Nir), was sold to more than 20 countries around the globe and was bought by Disney for adaptation. His film On the Map is being distributed by LIONSGATE in North America. Dani Menkin is a speaker and film juror at international festivals around the world, as well as a film professor in universities in the U.S.
About Brendan Kelly—Moderator
Dr. Brendan P. Kelly is a senior fellow with the Center for the Blue Economy at MIIS. He also serves as executive director of the Study of Environmental Arctic Change and professor of Marine Biology at the International Arctic Research Center, University of Alaska Fairbanks. A marine ecologist with a focus on sea ice environments, he has participated in and led collaborative research in the North Pacific Ocean, Arctic Ocean, Sea of Okhotsk, Baltic Sea, and Antarctica.
Event Location: McCone Irvine Auditorium
The McCone Building is located at 499 Pierce Street, Monterey, CA, 93940, on the campus of the Middlebury Institute of International Studies. Attendees should enter through the glass doors from Pierce Street, and the Irvine Auditorium is located inside to the left. View the campus map.
Parking
Parking is available in any Middlebury Institute campus lot after 5 p.m., or on the street (time limits on surrounding streets end at 6 p.m.)
Questions
Contact Rachel Christopherson at the Center for the Blue Economy at cbe@miis.edu or (831) 647-6615. To contact Carmel Jewish Film Festival directors: carmeljff@sbcglobal.net.