Quiet Sound: Reducing the Impacts to Endangered Southern Resident Killer Whales from Commercial Shipping
–
Online
Free
Open to the Public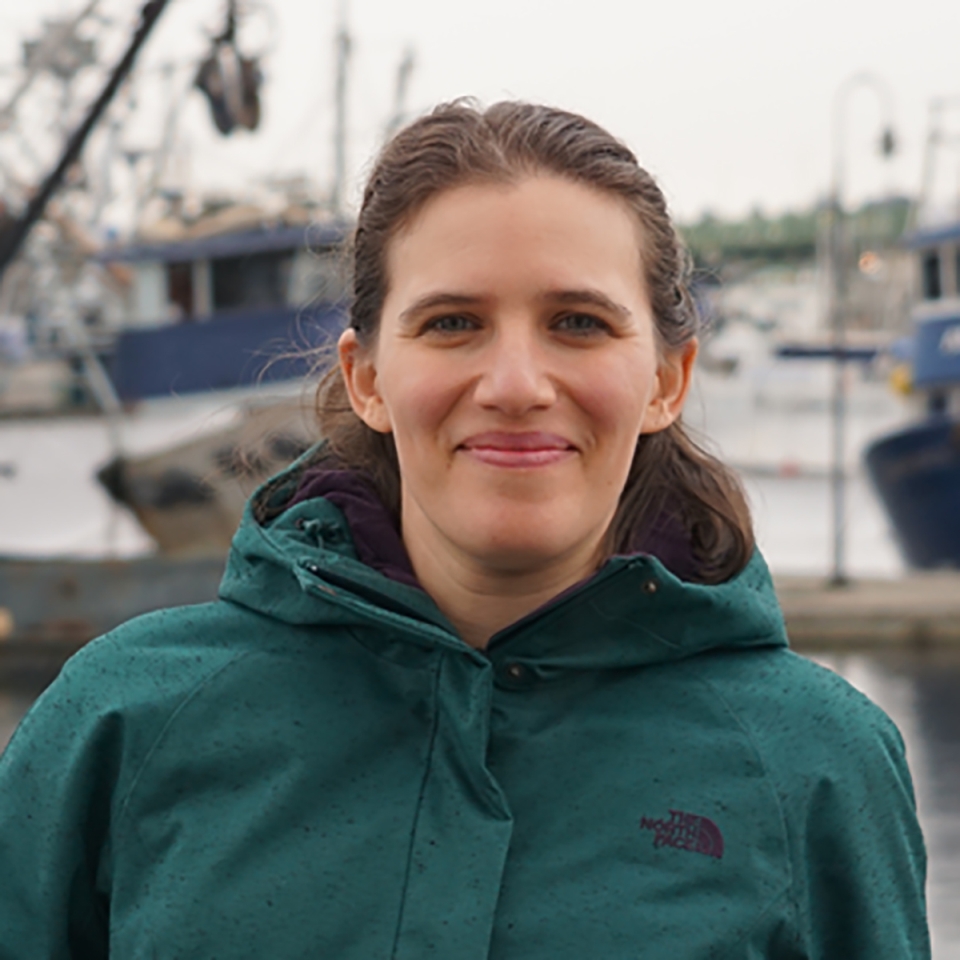 The waters of Washington State are critical habitat for the endangered southern resident killer whales. Only 73 of these whales remain in the wild.
Quiet Sound: Reducing the Impacts to Endangered Southern Resident Killer Whales from Commercial Shipping
Speaker:  Rachel Aronson, Quiet Sound Program Director, Washington Maritime Blue
Thursday, September 14, 2023
6:00pm to 7:00pm Pacific Time
Online via Zoom (details below)
About the Topic
The waters of Washington State are critical habitat for the endangered southern resident killer whales. Only 73 of these whales remain in the wild. These killer whales swim, rest and forage for fish in these waters. Underwater noise is identified by Canada and the United States as one of the main threats to southern resident killer whales due to its interference with their ability to hunt, navigate, and communicate.
The Quiet Sound program was created with the goal of reducing the acoustic impacts of large commercial vessels on these endangered whales in Washington. To do this, a coalition of federal, state, tribal, port, maritime industry, scientist, and NGO representatives developed several strategies, such as a trial voluntary slowdown in Admiralty Inlet and north Puget Sound. During the trial slowdown, large commercial vessels are encouraged to slow down when safe and operationally feasible to do so. By slowing down, large vessels reduce their underwater noise output. Quieter waters give orcas better opportunities to hunt and communicate with their pod.
Quiet Sound is collecting data on underwater noise reduction and vessel speeds. Quiet Sound's scientific research and recommendations to industry will lay the groundwork for improved habitat quality for the endangered southern resident killer whales and a more sustainable "Blue Economy" or maritime economy in Washington.
About the Speaker
Rachel Aronson is the Quiet Sound Program Director at Washington Maritime Blue, a NGO that seeks to accelerate the sustainability and equity of the blue economy. Quiet Sound, founded in 2021, seeks to better understand and mitigate the impacts of large commercial vessels, such as cargo, ferry and cruise ships, on the endangered Southern Resident Killer Whales in Washington State. Quiet Sound is a state-wide coalition of local, state, federal and tribal governments, the maritime sector and conservation NGOs. Rachel holds an M.M.A. from the University of Washington's School of Marine and Environmental Affairs, as well as a B.A. in Biology and Hispanic Studies from the University of Pennsylvania. She lives in West Seattle with her family and enjoys vegetable gardening, camping, and being on the water in their dinghy, the Salish Seahorse.
Recommended Reading
Zoom Link
https://middlebury.zoom.us/j/93416660930?pwd=RDEvU21PMjkvYmJISjZzWGdUV3MrQT09
Password: NoPlanetB
Meeting ID: 934 1666 0930
Or iPhone one-tap :
    US: +16694449171"93416660930#  or +16699006833"93416660930#
Or Telephone:
    Dial(for higher quality, dial a number based on your current location):
        US: +1 669 444 9171  or +1 669 900 6833  or +1 346 248 7799  or +1 719 359 4580  or +1 253 205 0468  or +1 253 215 8782  or +1 305 224 1968  or +1 309 205 3325  or +1 312 626 6799  or +1 360 209 5623  or +1 386 347 5053  or +1 507 473 4847  or +1 564 217 2000  or +1 646 876 9923  or +1 646 931 3860  or +1 689 278 1000  or +1 301 715 8592
    Meeting ID: 934 1666 0930
    Phone Password: 955312037 (no participant id, press # to bypass)
    International numbers available: https://middlebury.zoom.us/u/auz5a5K2C
Questions
The Center for the Blue Economy is a research organization at the Middlebury Institute of International Studies.  Our mission is to promote a sustainable ocean and coastal economy (the "Blue Economy") through leadership in research, analysis, and education.  For questions contact: Rachel C. at cbe@middlebury.edu or visit centerfortheblueeconomy.org or call 831-647-4183 (must leave message and receive call back).
Email Notice Reminders?
If you wish to receive email reminders one day prior to the talks (as well as 15 minutes ahead of each event), contact cbe@middlebury.edu with that request and we will "make it so."