Reflections on COP26: Leave It In the Ground
–
Online
Free, Open to the Public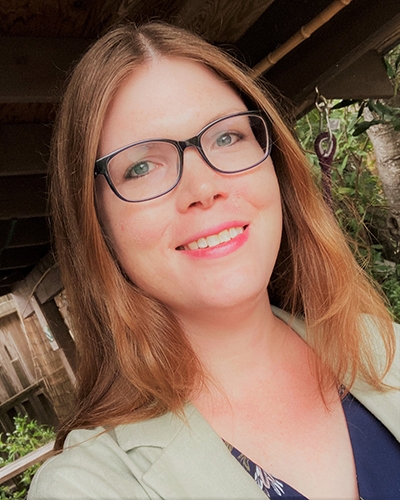 Alice McGown attended the 26th UN Climate Change Conference of the Parties (COP26) in Glasgow. She brought one simple message to the nations of the world:  leave fossil fuels in the ground.
Reflections on COP26:  Leave It In the Ground
Speaker:  Alice McGown, International Environmental Policy master's candidate at MIIS
Tuesday, March 1, 2022
12:30pm to 1:30pm Pacific Time
Online via Zoom (details below)
Video
About the Topic
The Center for the Blue Economy celebrates the work that Alice has done as Lead Geospatial Information System (GIS) Researcher with the Leave it in the Ground Initiative, and the incredible opportunity she had to present at COP26.   She will share her reflections with us, and tell us about her work.  As she told us prior to COP26:    "I have created a global map identifying the overlap between fossil fuel deposits and protected areas, and then tracked and classified the extraction operations in these delicate sites. I'll be presenting my work, naming and shaming the worst offenders, and pushing for nations to honor their protected designations by halting extraction operations within them."   Let's hear how it all went down.
About the Speaker
Alice McGown, International Environmental Policy master's candidate at the Middlebury Institute of International Studies, has a host of projects she's involved with, and a background in filmmaking and videography.  See her website:  https://alicemcgown.com/
Zoom Link
Environmental Justice & Sustainability Speaker Series   
Password: ClimateSOS
Meeting ID:  932 9100 1661
Or Telephone:
    Dial(for higher quality, dial a number based on your current location):
        US: +1 669 900 6833  or +1 346 248 7799  or +1 253 215 8782  or +1 312 626 6799  or +1 646 876 9923  or +1 301 715 8592
    Meeting ID: 932 9100 1661
    Password: 0649347759
    International numbers available: https://middlebury.zoom.us/u/aD8s9d0wA
Please note:   We will be recording this lecture to post to the Center for the Blue Economy YouTube and here on this webpage.  Participants will be notified upon joining the meeting that it is being recorded, and must consent to participate.  We reserve the right to exclude disruptive participants.   
Questions
The Center for the Blue Economy is a research organization at the Middlebury Institute of International Studies.  Our mission is to promote a sustainable ocean and coastal economy (the "Blue Economy") through leadership in research, analysis, and education.  For questions contact: Rachel C. at cbe@middlebury.edu or visit centerfortheblueeconomy.org or call 831-647-4183 (must leave message and receive call back).