Support the Institute
Christine Casanave Honored as Institute's 2019 National Philanthropy Day Recipient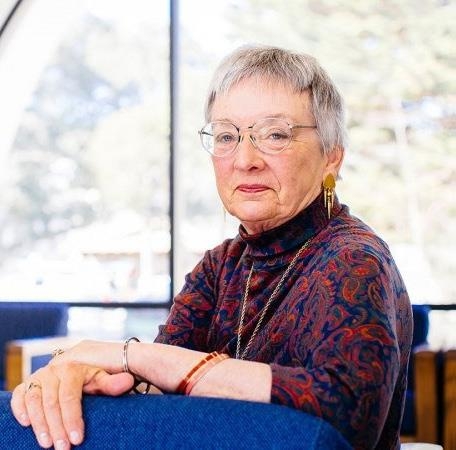 Christine Casanave, a 1977 alumna of the Institute and a Legacy Society member, was honored by the Institute as its 2019 National Philanthropy Day recipient.
 
National Philanthropy Day, first proclaimed by President Ronald Reagan in 1986, recognizes outstanding individuals and organizations whose philanthropic giving has made a significant difference in communities throughout the United States and world.
Christine was recognized for her philanthropic support of the Institute's students, particularly those in the Teaching English to Speakers of Other Languages (TESOL) program. In 2010, she created the Christine R. Pearson Casanave '77 Scholarship, the Institute's first dedicated to students in the TESOL field. Since its establishment, nine students have received financial support, some for multiple years. She also was a driving force behind ensuring the full endowment of the Carl Fehlandt Scholarship, awarded to students in the Translation and Interpretation program.
Christine completed her M.A. in Education at MIIS in 1977, then directed its English as a Second Language program for two years, helping design the MA TESOL program in 1981.
After earning her doctorate from Stanford University's School of Education, she taught English in Japan. She eventually returned to the United States, and since 2012, has been a visiting scholar at the Institute, where she can be seen in the William Tell Coleman Library most days. A prolific writer, with specialties in reflective and essay writing, academic writing, and writing for publication, she has written dozens of articles and books and authored what many consider are the definitive books on preparing for living through the doctoral dissertation process. Given her passion for writing, she offers workshops and sage advice for aspiring writers.
"I give because I live simply, have the means to do so, but most of all, because I'm committed to education and investing in the future of helping those involved in language education," she said.  "I also love MIIS. I came here in the '70s and some of my fondest memories are from that time. The teachers at the then-Monterey Institute of Foreign Studies were phenomenal. It was fun, and I just bloomed. Most of all, I understand the value of education, and am happy to give back however I can."