"Allies at MIIS" Hosts Conversations about Racial Equity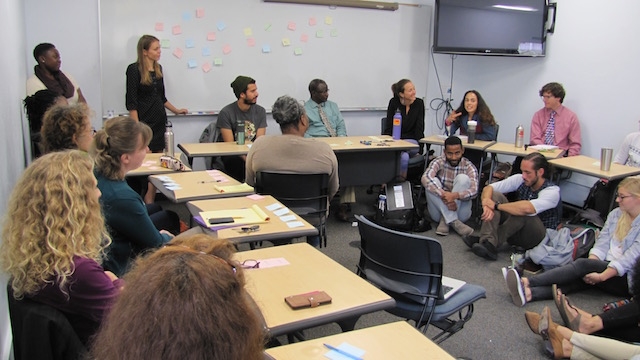 More than 30 Middlebury Institute students, staff and faculty members participated in the first in a series of candid conversations on race held on Tuesday, September 13. The gathering was the first in a series that will continue through the fall semester and be augmented with two sensitivity training sessions in late October.
Allies at MIIS is a research-cum-practica initiative of the Center for Conflict Studies (CCS), launched last spring by Dr. Puspha Iyer, professor and founding director of CCS. The initiative seeks to motivate members of the Institute – faculty, staff and students – to become better allies for racial equity and thus contribute positively to building a more racially equitable campus and society. Says Iyer, "Students and academics in educational institutions, especially those of higher learning, are the loudest in demanding that we bring conversations about race more to the forefront and develop tools to deal with race-related conflicts."
The first conversation, on the topic of identity, was facilitated by Laura Schroeder MAIPD '17, a member of Allies at MIIS. "The first discussion in Allies' series on identity was both an affirmation of the contributions of a diverse student body to MIIS and a call to action to continue to examine racial dynamics on campus," says Schroeder, who is looking forward to future discussions and events.
"I chose to attend the Allies event because I have realized that my lens for perceiving the world is smaller than I would like it to be," shared Celina Lima MBA/MAIPD '19, "and I wanted to participate in a safe space with people who are different from me, so that I could learn from their experiences."
The "OPEN disMIISsing Prejudice" conversations will continue on October 25 and December 8 "with the aim of sharing, listening, learning, and understanding." Everyone is welcome and encouraged to join the discussion. As Middlebury President Laurie Patton wrote recently in Middlebury Magazine: "We have so much we can learn from each other – as long as we keep talking, and keep listening."