Alumna Receives Global Award for Contribution to Field of Legal English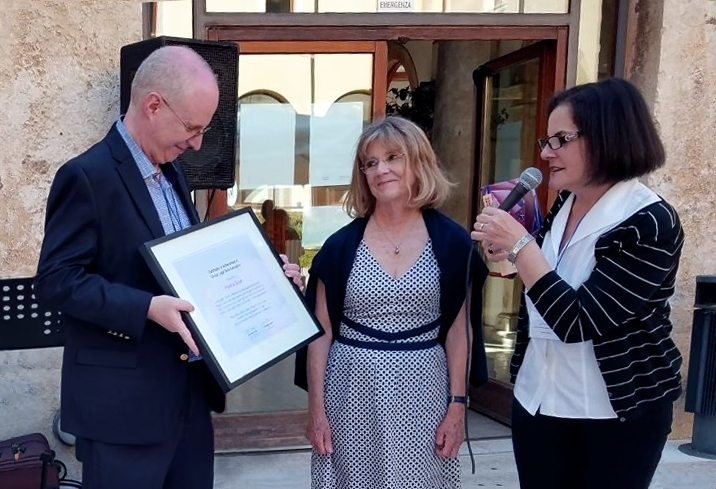 Middlebury Institute alumna Patricia Sours MATESOL '94 recently received the Global Legal Skills Award in Verona, Italy in recognition of her contributions to the field of Legal English. Sours and fellow professor Alison Riley were honored at the 2016 Global Legal Skills Conference for their years of dedicated teaching and the publication of two co-authored books, Legal English and the Common Law, and Common Law English and Grammar: A Contextual Approach.
After graduating from the Institute in 1994, Sours worked in Italy, first conducting training courses for Italian elementary school teachers and later in a junior position at the University of Padua. She began to specialize in English for Specific Purposes, or ESP, and was hired by the dean of the law school on a "professor contract," as it is known in Italy. "So I ended up being a bit of a gypsy, winning positions in law departments at other universities in Northern Italy and traveling a lot."
In time Sours met a colleague from Britain, Alison Riley, who was doing the same thing. Riley had an undergraduate degree in law and the two teamed up and combined their skills in linguistics and law to create textbooks and curricula.
After over 20 years in Italy, Sours still thinks back to some of the faculty members she had at the Institute. "Our class was small and intimate and the interesting thing was that we were all older students who had been teachers for years. No scrub-faced graduates in our crowd!" She especially recalls Professor Leo van Lier's reminders to use tools like Breuner's "scaffolding" and to think critically at all times and question everything. She describes the late Prof. van Lier, who died in 2012, as "so brilliant, and a great loss for me personally and MIIS."
Professor Peter Shaw's impact on Sours was also lasting. "Thanks to him, we prioritize strategies to create a friendly and cooperative environment for learning. I've had classes of 140 students where we still managed to work in small groups. Great thanks to both!"