Alumna Tackles Nuclear Security Issues as Graduate Fellow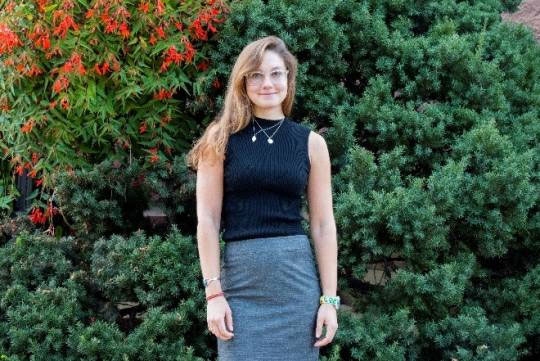 December 2016 Middlebury Institute graduate Ruby Russell MANPTS '16 is already having an impact at the National Nuclear Security Administration (NNSA) as a graduate fellow. Russell's full-time, one-year salaried position at NNSA offers specialized, on-the-job training and the chance to tackle real-world challenges in one of the agency's program offices, not to mention a head start on future career opportunities within the agency.
The NNSA recently profiled Russell on their website; excerpts from the profile follow:
What drew you to the NGFP (NNSA Graduate Fellows Program)?
After obtaining my master's degree in Nonproliferation and Terrorism Studies from the Middlebury Institute of International Studies at Monterey, I knew I wanted to pursue a career in the field of arms control and international security. The Defense Nuclear Nonproliferation (DNN) office at NNSA encompasses a variety of international and nuclear security-related programs, all of which seek to reduce the threat posed by weapons of mass destruction and related materials globally. NNSA's unique position as both a technical- and policy-oriented agency, as well as its extensive work and collaboration with countries worldwide made it all the more interesting to me. I knew as an NGFP fellow I would have the opportunity to delve into the issues I am passionate about while also gaining a greater understanding of how U.S. nuclear security policy is developed and put into action.
What are you currently doing for NNSA?
I work in the DNN front office, which oversees four large and complex programs. The front office has a fast-paced atmosphere and serves as the center of communication and coordination with the DNN programs, DOE/NNSA, and interagency partners. My responsibilities range from tasking, compiling, and editing policy memos, to organizing and running meetings, to facilitating communications strategies and liaising with DNN stakeholders, both inside and outside of NNSA.
What advice would you give prospective fellows?
You should apply if you are looking to better understand the ways in which the United States develops and executes policy related to halting the spread of nuclear and radiological weapons worldwide, the NGFP fellowship provides an excellent opportunity to expand your nuclear security knowledge and skillset. I would also advise that in applying, to be open to exploring all of the various offices under NNSA, each of which plays a unique and critical role in advancing nuclear security.
The NGFP is funded by NNSA and is administered by the Pacific Northwest National Laboratory. Read the full NNSA profile of Ruby Russell MANPTS '16.