Alumni From Around the World Gather in Monterey for Reunion 2015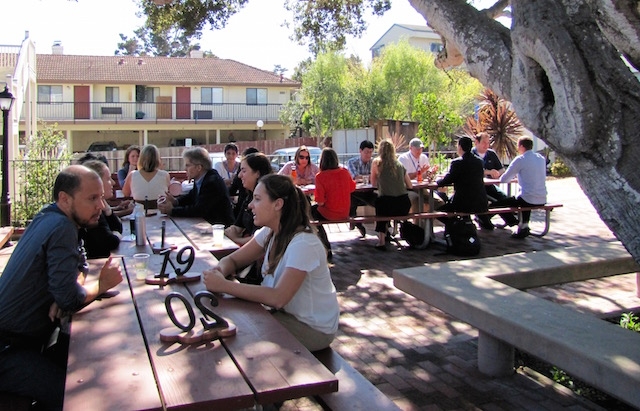 Legacy Scholarship program benefitting the families of alumni, and a group of students presentations about the interesting internships and projects they worked on over the summer.
From there it was time to enjoy some California sunshine at al fresco lunches in the Holland Center courtyard with faculty and other alumni from their fields. Many alumni stayed on to participate in the "Life at MIIS Speed" career mentoring event with current students. Later on, students will have another opportunity to get to know these accomplished professionals at an alumni-student Happy Hour.
The weekend ahead is filled with opportunities for networking, catching up with old friends, and enjoying all that Monterey has to offer. After breakfast at Roderick House tomorrow morning, alumni are invited to participate in a unique chance to learn all about the Institute's history, official and unofficial, from the legendary Jeff Wood and Glynn Wood on their "Walk with the Woods" campus tour. Many will spend the afternoon sightseeing or simply enjoying each other's company before the big gala dinner Saturday evening at the historic Asilomar Conference Center. The first day started off brilliantly with fascinating conversation and unexpected connections, and the rest of the weekend promises all this and more.