Alumnus Wins Honorable Discharge 40 Years After Court-Martial for Being Gay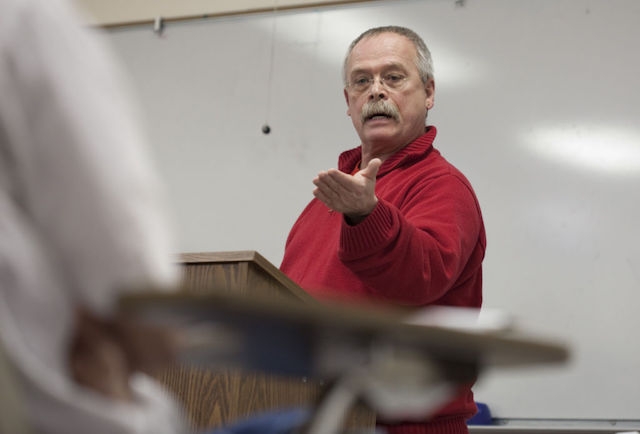 "The progress of the past few decades is thanks in no small part to brave Americans who came out, spoke out, and challenged prejudice in their own communities," wrote President Barack Obama to Middlebury Institute alumnus Dr. Jay Hatheway MAIS '79 on January 15 of this year, in response to Hatheway's "inspiring letter" about his long struggle for fair treatment by the United States Army. Last year, after nearly 40 years, his dishonorable discharge from the Army for being gay was overturned.
A California native, Hatheway spent much of his early childhood in Iran, where his father worked as an oil executive, before attending boarding school in Italy. After completing his studies at Claremont Men's College on a ROTC scholarship in 1971, he owed the U.S. Army four years of service.
Hatheway received Special Forces training and became a Green Beret, stationed initially in Bad Tolz, Germany. In 1975, just a few days before he was about to fly home for the end of his service, he was invited to join a fellow soldier for a drink in his room. As the man made a pass at him, his roommate walked in on them. "He panicked and turned us both in," says Hatheway.
What happened next was "brutal." The court-martial proceedings took months and included harsh psychological testing. Looking back, Hatheway draws a connection between his harsh treatment and the fact that several months prior Air Force Sgt. Len Matlovich had publicly come out in order to challenge the rule against gays in the military. The Army prosecutor wanted him incarcerated, but upon conviction he was sentenced to dismissal and sent home.
"Back then, in 1975, Matlovich and I were the first to challenge the ban on gays in uniform," says Hatheway, adding that they were defended by the ACLU. While waiting out the appeals to his court martial, he came to Monterey to pursue a graduate degree in International Studies and German at the Institute. An interview with local media where he spoke about his trial had negative consequences in the community, but he found he could rely on his fellow students for support.
"My entire academic career and activism was based upon my trial, conviction, and subsequent mistreatment," says Hatheway, a longtime history professor at Edgewood College. He studied under the fathers of Nazi History in the US, George Mosse and Robert Koehl, and his academic research and publications have been related to the Schutzstaffel (SS), their ideology, and its application. "I have used my academic work to guide me in my gay activism: to end the ban, previously mentioned, and to work to end discrimination against gays in general."
Hatheway's book about his experience, "Guilty as Charged: The True Story of a Gay Beret" has been well received and his activism and numerous outreach efforts recognized by Congress and others. He rejoiced when "Don't Ask, Don't Tell" legislation was overturned, but there was always a part of him that had a hard time letting go of his own personal injustice.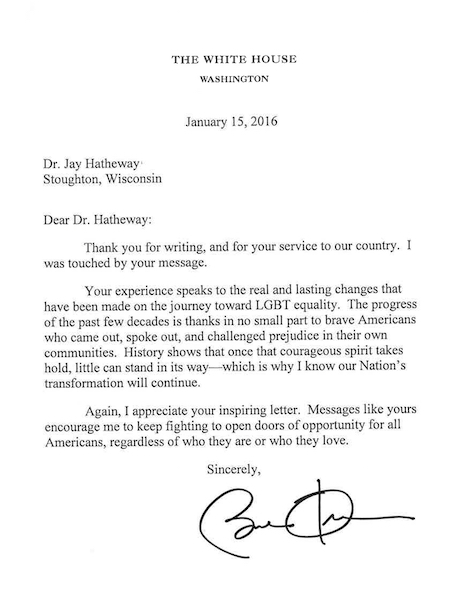 In 2014, he filled out an application with the Army Board for Correction of Military Records, asking to have his discharge upgraded to honorable. A year later, he received a confusing five-page record of proceedings indicating that his application had been denied; yet also stating that "full relief" of his request had been granted. He wrote back to ask what that meant. He was "completely floored" by the response—Deputy Assistant Secretary of the Army Francine Blackmoun had overruled the Army Board and instructed them to issue Hatheway an Honorable Discharge Certificate dated May 28, 1976.
"What a strange journey it has been." A few weeks ago, he received another important letter, this time from the president of the United States thanking him for his service. Hatheway is heartened to see how attitudes have changed on both the local and national level. "I am now 66 and the struggle, while not over, has come a long way from my experiences in the 1970s."