CNS Breaks Story on North Korea Faked Missile Test Footage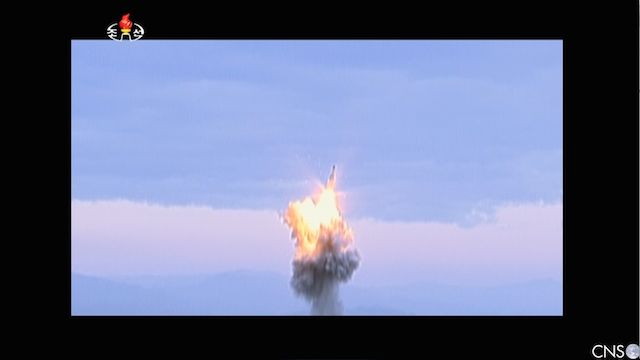 After testing a nuclear weapon for the fourth time last week, North Korea continued its sabre rattling, releasing a video on Friday purportedly showing the firing of a submarine-launched ballistic missile. Not taking their word for it, experts at the Middlebury Institute's James Martin Center for Nonproliferation Studies (CNS), led by research associate Catherine Dill MANPTS '13, carefully analyzed the footage and found that it had been manipulated to cover up a failure.
The analysis was a team effort by Dill and her CNS colleagues Melissa Hanham, Jeffrey Lewis and Dave Schmerler, along with Bo Kim MANPTS '16, a current student in the Nonproliferation and Terrorism Studies degree program. Their findings and have made headlines across the globe.
Following are some highlights of media coverage:
1/12/16 – Reuters: North Korea Faked Missile Test Footage: U.S. Experts (widely republished)
1/12/16 – Yahoo News: S Korea President Urges Tough Response to Pyongyang's Atomic Test
1/12/16 – Voice of America: Exclusive Interview: Analysts Say NK Submarine Missile Launch Failed
1/12/16 - CNN: North Korean Aircraft Approaches South Korea, Which Fires Warning Shots
For Dill, the weekend was spent going over the video and sorting though the clips, finding proof that it had been manipulated and clues about why. "When viewed against one another, it is clear North Korea only has a few seconds of footage of a single launch attempt." On Monday the team could be heard shouting between offices on Van Buren street as they collaborated on the analysis. They were able to geolocate the test site, and by slowing up the footage, uncover the debris field. When they compared the footage to a successful Soviet R-27 launch it was clear the North Korean missile was behaving abnormally. "The rocket appears to have exploded," says Dill.
"North Korea has a history with tampering with images," says senior research associate Melissa Hanham. When the country announced last week that it had successfully tested a hydrogen bomb, experts from CNS and elsewhere voiced their doubts, but real evidence of what actually happens in a closed totalitarian dictatorship is hard to come by. Nonetheless, as CNS experts have shown time and time again, it is possible to learn a lot by analyzing open source images and data. In this case, by analyzing frame by painstaking frame the official footage of the missile launch, they were able to confidently determine that it went "kablooie," to use the words of Jeffrey Lewis, director the East Asia Nonproliferation Program at CNS.