CNS Experts Quoted Widely on North Korea Nuclear Test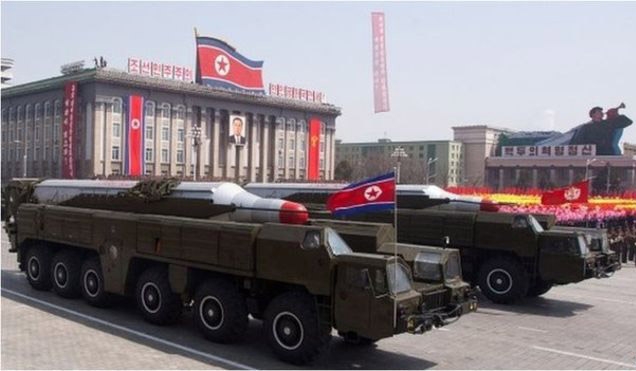 Long a leading source of timely academic analysis and commentary on topics such as North Korea's rapidly advancing nuclear program, the Middlebury Institute's James Martin Center for Nonproliferation Studies (CNS) appeared to reach a new level of global notoriety over the last few weeks, with attendant consequences.
The breadth of media coverage quoting CNS experts in connection with last week's missile test by the North Korean regime speaks for itself:
Here's why North Korea's 5.3 magnitude 'earthquake' was probably a nuclear test — and how big it could have been - Business Insider, 9/8/16
5th North Korea Nuclear Test Suspected After Earthquake Is Detected - New York magazine, 9/8/16
North Korea's nuclear test may be its largest ever – CNBC with Reuters, 9/9/16
Will North Korea's next missile test have a nuclear warhead? – CNN, 9/9/16
N. Korea's bomb is more powerful, but worry is miniaturisation - Daily Mail (UK) via Reuters, 9/9/16
US expert claims latest NK missile launches Scud-ER – Korea Herald, 9/9/16
North Korea Says It Conducted Fifth Nuclear Test - NBC News, 9/9/16
Kim Jong-un's growing nuclear arsenal could force US back to negotiating table with North Korea - South China Morning Post, 9/9/16
North Korea conducts fifth nuclear test, claims it has made warheads with 'higher strike power' - Washington Post, 9/9/16
These North Korean Missile Launches Are Adding Up to Something Very Troubling - Washington Post, 9/9/16
'Be very afraid of North Korea's continuing quest for nuclear weapons': analyst - CBC Radio (Canada), 9/12/16
The North Korea nuke nightmare: The danger is real — and answers for the U.S. are scarce – Salon, 9/12/16
The alarming progress of a nuclear North Korea - BBC, 9/14/16
The Business Insider, CNN, Reuters and Washington Post stories were reprinted in numerous other outlets nationally and internationally.
Even as the phones began to ring, a new site created by CNS to promote crowdsourcing of nuclear verification intelligence from publicly available satellite imagery was hobbled by a concerted denial of service, or DoS, cyber-attack. CNS Senior Research Associate Melissa Hanham called the timing of the attack "suspicious" in a WIRED piece whose author noted: "Somebody doesn't like a new website that checks on secret nuclear weapon facilities around the world."
CNS staff are currently working to relaunch the site.