CNS Experts Visit Kazakhstan, Promote Nonproliferation Education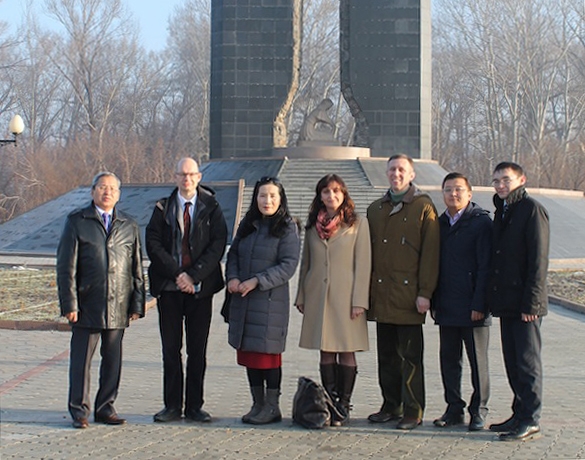 James Martin Center for Nonproliferation Studies (CNS)—Ferenc Dalnoki-Veress, Bryan Lee, Margarita Sevcik, and Masako Toki—traveled to Kazakhstan in Central Asia to visit two universities: Nazarbayev University, in the capital Astana, and Shakarim State University of Semey, in the city of Semey (formerly known as Semipalatinsk).
The goal of the trip was twofold: to introduce CNS and MIIS programs to both universities, and also to teach a course on nuclear nonproliferation. During their visit to Nazarbayev University, CNS staff had a series of meetings and briefings with the university senior administration and deans of School of Science and Technology and Graduate School of Public Policy. The trip was funded by a multi-year grant that CNS received from the U.S. Department of Energy's National Nuclear Security Administration on "Promoting International Nuclear Security & Nonproliferation through University Nonproliferation Education and Community Building."
The group also travelled to Semey, which is located approximately 100 miles from Ground Zero, the site of 456 nuclear tests conducted by the Soviet Union from 1949 to 1989. There, they joined Kazakhstani colleagues Mr. Dauren Aben (MAIPS '03) and Mr. Zhanibek Yessimbekov (CNS Visiting Fellow, Spring 2014) in teaching an intensive course called "Introduction to Nuclear Nonproliferation and Nuclear Security" to students at Shakarim State University of Semey (SSU), a leading multidisciplinary educational and scientific center in North-Eastern Kazakhstan.
More than 30 students majoring in physics, engineering, history, political science and other disciplines attended the two-week course of over 20 lectures on the history of nonproliferation regime, technical, political and legal aspects of nonproliferation, nuclear security, regional threats, humanitarian impact, and the environmental consequences of nuclear testing. In addition to students, several staff members
from the SSU Scientific Center of Radiological Research took part in the course. In addition, the CNS representatives had a series of meetings with SSU administration and faculty during which they identified opportunities for cooperation and agreed on the need to include a nonproliferation course to the university curriculum on a regular basis.
Kazakhstan has endured the consequences of nuclear testing and still faces problems stemming from the Soviet programs of weapons of mass destruction and their legacy. After gaining its independence in 1991, Kazakhstan showed a strong commitment to nuclear disarmament and nonproliferation by removing and dismantling all nuclear weapons remaining on its territory after the demise of the Soviet Union. Today, Kazakhstan has an advanced nuclear industry and the world's largest deposits of uranium. It is pursuing plans to build a nuclear power plant and host an international nuclear fuel bank.
at the Monterey Institute.