Fulbright Students from Around the World Enrich Campus Culture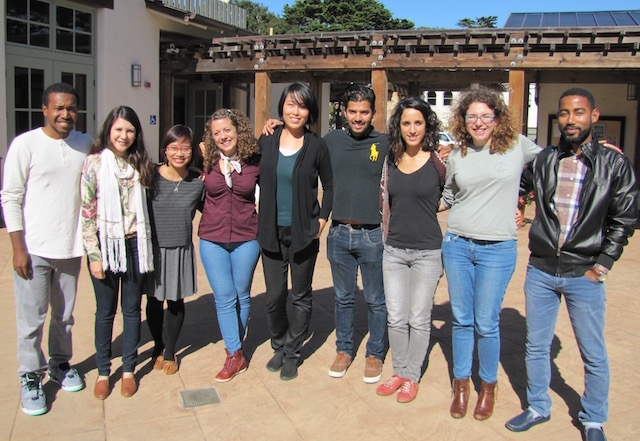 From its inception in 1945, the Fulbright Program has fostered bilateral relationships by offering scholarships and training for students from other countries to study in the U.S., as well as for scholars from this country to work and study in partner countries. At the Middlebury Institute, the relationships formed often last a lifetime as students from different countries become graduates working in the same field, maintaining their professional and personal connections.
This fall the Middlebury Institute welcomed nine new Fulbright students who were immediately embraced by the larger group of Fulbrighters on campus. They come from as far away as Spain, Benin, and Indonesia, but all share the desire to use the skills and knowledge they are gaining at the Institute to make a positive impact on their communities when they return home.
When asked about the "best part" of her experience in Monterey so far, Luisa Roemer MANPTS '17 says that is an impossible question because "the whole experience is amazing, tremendously interesting and totally overwhelming." The Frankfurt, Germany native says she wakes up some mornings and still can't believe she is here. "It is everything I always wanted – and sometimes even more!" Genevieve Yehounme MAIEP '17 shares a great experience she had when she was invited to a dinner with nine fellow Middlebury Institute students, all from different countries. "I enjoyed getting to know about our cultural differences and similarities. To me, MIIS is like the UN but on a smaller scale." Genevieve would like to increase environmental consciousness in her home country of Benin through ecotourism.
Chang Hong MAIEM '16 came to the Institute from Shanxi Province, China. She says she is now studying at her "dream institute," and she hopes to use her education "to help build more mutual understanding between China and the US." Hailing from West Papua in Indonesia, Jouhannes Faidiban MAIPD '17 came to the Institute after a recommendation from a friend and says it gives him great satisfaction to know that he is "in the right school" that allows him to "have hands on experience" in his chosen field. The resources offered by the Institute "to turn knowledge into practical application," were also a draw for William Holness MAIEP '17 from Panama. "Our classmates, professors and staff are all really nice people and are always willing to help with a smile," he adds.
Naweed Nayib MAIPD '17 would like to return to back home to Afghanistan and work in the development sector with an international organization. Minh Nguyen MATESOL '17 chose the Institute for its renowned Teaching English to Speakers of Other Languages program and hopes to work as a teacher of English at a university or an institution when she returns to Vietnam. "I would like to design curricula for different English teaching settings as well as conduct meaningful research in the field." Hesham Ahmed Alsaati MAIEP '17 would like to integrate green tech sustainable solutions in resilient city development in his native Bahrain.
Laura Adela Garrido Olarte MACI '16 and Ana Carmen Ramirez Fernandez MACI '16 are both from Andalusia in Spain and both picked the Institute because it is "the top school for translation and interpretation." Laura says: "I hope to bring something back to my country and my community by helping people break linguistic barriers." Ana feels the same way and says she can't wait to put in practice all the skills and knowledge that she is learning here. In the same program is Jazmin Benitez MATI '17 from Paraguay, who would like to increase the standards of interpretation in her home country. For her the best part about her time here is that "Since day one I have been learning a lot."
The future goal of Oumar Amar MAIPD '17 is to return to Mauritania, utilizing the knowledge and skills he will gain while at the Institute to "fight for human rights and the abolishment of slavery." He says the friendships he has developed are the best part of his experience so far, adding that "these friendships will last forever and can be utilized in the future in the professional sphere – you can look at them as convertible currency." We can think of no better medium of exchange.