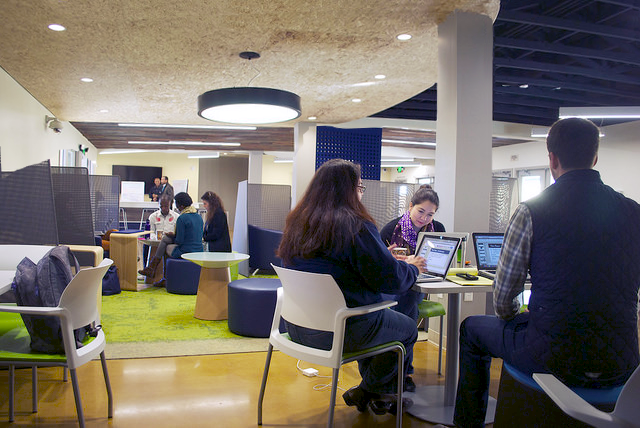 Institute alumni from the early years called it "The People's House," while younger alumni and current students know it as the Holland Center. By whatever name you prefer, the building at 442 ½ Van Buren Street has been a gathering place for students since the 1970s and has grown over time from a single structure into a hybrid combining three separate buildings. More recently, after five months of extensive renovations, students have been heard calling it a "happy place."
The new Holland Center was re-opened this week with an additional 135 square feet of interior space, a new kitchen where students can store and warm food, several different study zones for use by individuals or groups, and a multipurpose area featuring a large television screen. The area surrounding the center was renovated as well, with a beautifully landscaped patio in back and a new seating area in front under a lighted wooden trellis.
Any renovation project is undertaken with a degree of uncertainty, says Director of Facilities Andrew Hernandez, who oversaw the project, but thankfully in this case "there were no big surprises." Among interesting new features are wooden panels in the ceiling created out a mixture of wood from a recycled fence and the oldest of the three original buildings. The new space was designed by Wald, Ruhnke & Dost Architects in Monterey. The renovation of the Holland Center was made possible in part by a generous gift from the Milliken Foundation, facilitated by Lindsay Webbe (Midd '65), parent of Institute alumnus Henry Webbe (MBA '14).