IAEA Director General Amano Keynotes CNS 25th Anniversary in Vienna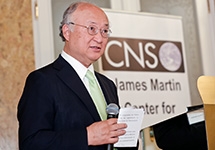 Yukiya Amano, director general of the International Atomic Energy Agency (IAEA) gave the keynote address at a celebration to mark the 25th anniversary of the Middlebury Institute´s James Martin Center for Nonproliferation Studies (CNS) in Vienna on June 16. Amano recalled his days at CNS in 2002 and his long friendship with CNS Founding Director William Potter. Austrian Ambassador Alexander Kmentt, U.S. Ambassador Laura Kennedy, Elena Sokova, Mr. Jean duPreez, and Ms. Jenni Rissanen also joined Dr. Potter in making remarks to approximately 90 guests. Ms. Laura Rockwood, who recently assumed the post of Executive Director of the Vienna Center for Disarmament and Non-Proliferation was the master of ceremonies.
The following proposal by Ambassador Kmentt was adopted without a vote by all assembled CNS alumni and diplomats: "The Vienna Center has developed a comprehensive and balanced Programme of Work during the last Review Cycle across all pillars of our work in Vienna. The work of the Center is based on the principle of undiminished academic expertise and excellence and the maintenance of strategic vision and the general and complete satisfaction not only to the Austrian Foreign Ministry but also the diplomatic community engaged in our crucial disarmament and nonproliferation work."
In the days leading up to the celebration, over three dozen diplomats, several nongovernmental experts, as well as the heads of the IAEA and the Comprehensive Nuclear Test-Ban Treaty Organization (CTBTO) met in Baden, Austria to analyze the outcome of the 2015 Review Conference on the Non-Proliferation of Nuclear Weapons (NPT). The conference was the second retreat organized by the Vienna Center for Disarmament and Non-Proliferation with the support of the Carnegie Corporation of New York and the Austrian Ministry for Europe, Integration and Foreign Affairs.