Inaugural Group of Dean's Fellows Includes Fulbright Scholars, Entrepreneurs, Policy Wonks and More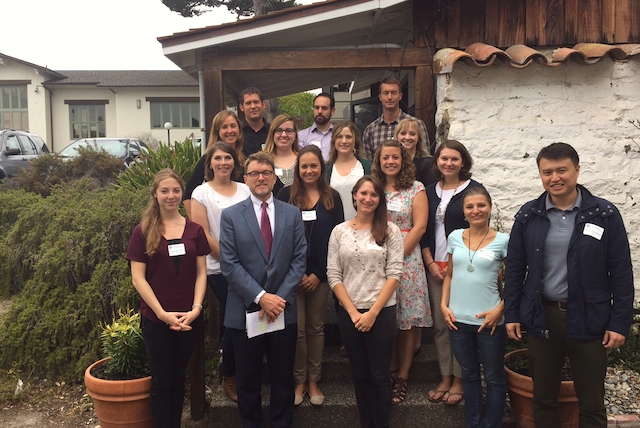 Demonstrating a strong academic record as well as a strong commitment to the mission of the Middlebury Institute, seventeen members of the fall incoming class have been chosen by a special committee to take part in the first Dean's Fellows program. As Dean's Fellows, the students will participate in the Global Issues Seminar, and will gather every month for lectures and discussions hosted by Vice President and Dean of the Institute Jeff Dayton-Johnson on a variety of topics.
As you might expect, the inaugural group of Dean's Fellows speaks numerous languages, comes from six different countries, and has many fascinating stories to share. The group includes Fulbright scholars, a Princeton in Asia Fellow, a foreign area officer, Bolashak scholar, visionaries, entrepreneurs, and experienced professionals.
Nonproliferation and Terrorism Studies student Julia Diamond has interned at the Russian American Foundation in New York, the Small Arms Survey in Geneva, and the Carnegie Moscow Center. Her professional goal is to help improve U.S.-Russia relations through closer cooperation in nonproliferation efforts, and she was drawn to the Institute because of its unique Graduate Initiative in Russian Studies and the groundbreaking work of its James Martin Center for Nonproliferation Studies.
After moving with her husband to Quito, Ecuador and taking on the demanding task of organizing support services for orphaned children in a language she did not know at the time, Keelie Frisby became convinced she could "accomplish anything." She is looking forward to gaining knowledge and skills through the Master of Public Administration program to lead a "non-profit organization that aims elevate the academic opportunities of youth in Latin American communities."
Keelie, Julia and the other Dean's Fellows met for their initial group breakfast with Dayton-Johnson on August 20, an event that left the group with a spirit of camaraderie and much more to look forward to in the months ahead.