Institute to Co-Host Conference on Community Capital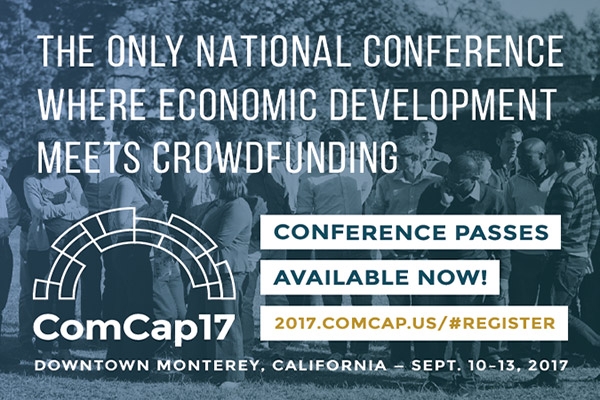 Deepening its commitment to impact investing, economic justice, and sustainable enterprise, next month the Middlebury Institute of International Studies will co-host ComCap17, a gathering of visionaries and creative thinkers on the timely topic of community capital.
"The idea behind community capital—which people also call 'slow money' or 'localvesting'—is simple," explains Kent Glenzer, dean of the Graduate School of International Policy and Management and a member of the conference's organizing committee. "Capital raised in a local community can and should be invested back into that same community. And investors can and should accumulate both financial and social returns on their investment. "
The September 10-13 conference is being co-hosted by the Institute and the City of Monterey, with support from the National Coalition for Community Capital. In the words of the conference program, it aims to explore tools, knowledge, and strategies for improving access to community capital, with the goal of "increased social equity, local resilience, citizen engagement and community impact."
Speakers will include prominent voices in the community capital field nationally such as Marco Vangelisti (founder, Essential Knowledge for Transition), Janelle Orsi (co-founder and director of Sustainable Economies Law Center), and Woody Tasch (founder and chairman, Slow Money Institute).
The conference will also feature comments from local leaders such as Alan Lovewell MAIEP '10 (founder/CEO of Real Good Fish), Jason Scorse (chair of the Institute's international environmental policy program and director of our Center for the Blue Economy), and Glenzer himself.
"I see this conference as intimately tied to the Institute's mission," adds Glenzer. "We prepare our students to make a difference on the world's most challenging problems, and expanding access to investment capital for innovative local entrepreneurs who wish to produce both economic and social returns is tremendously important for addressing wealth and economic inequality."
The Institute is home to the Frontier Market Scouts program, where enrolled fellows earn a professional certificate in impact investing and social enterprise management. The program's two-week certificate training provides participants with the knowledge and foundational network to launch a career in the field of impact investing and social enterprise management.
Register for the ComCap17 conference here.