Institute Co-Hosts U.S.-China Conference on Arms Control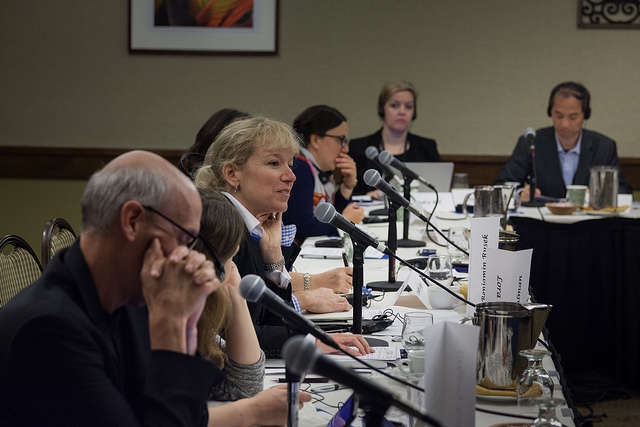 On April 11 and 12, governmental and non-governmental experts from the United States and China met for a conference focused on international nonproliferation issues including collaboration on nuclear security, hindering the illicit trafficking of WMD-related materials, efforts to move forward on nuclear disarmament, and the insecurity caused by North Korea's nuclear and missile development. Participants in the conference, which was co-hosted by the Middlebury Institute's James Martin Center for Nonproliferation Studies (CNS) and the China Arms Control and Disarmament Association (CACDA), also discussed the serious challenges facing U.S.-China strategic stability.
Participants in this year's eighth conference included senior representatives from the U.S. State Department and Department of Energy, the National Security Council, and academics from U.S. military academies, as well as various non-governmental experts. Former U.S. Under Secretary of Defense Walter Slocombe also attended. From the Chinese side, China's ministries of Foreign Affairs and National Defense were well-represented, as were experts from the academic and NGO sectors.
Several Institute alumni also returned to Monterey to participate in the conference while representing their current employers. "The tools I gained at CNS and the Institute made all the difference in my career," said Lora Saalman MAIPS '04, associate professor at the Daniel K. Inouye Asia-Pacific Center for Security Studies and the first US citizen to earn a PhD from Tsinghua University's Department of International Relations. Fellow alumna Elena Hushback MAIPS '08, nonproliferation and export control specialist at the Argonne National Laboratory, grew up "down the hill from the Los Alamos National Laboratory" in Santa Fe, New Mexico and has been interested in nuclear nonproliferation issues since high school. When the time came to pick a graduate school, she says the choice was simple.
Executive Director for Research Centers and Initiatives Amy Sands opened the conference on behalf of the Middlebury Institute, noting that the United States and China have significant common interests in maintaining international peace and stability, and that it is vital that the two states are able to work together to further mutual nonproliferation goals. CACDA Director General Chen Kai noted that through cooperation and dialogue, misunderstandings can be resolved, while pointing to recent successes like the Iran nuclear deal and the considerable progress made at the recently concluded Nuclear Security Summit as signs of positive movement.
"This conference series has always been a place where government officials and non-governmental experts can speak frankly and these discussions have often helped shape U.S.-China collaboration in the past," said the event's lead organizer Stephanie Lieggi, who is a senior research associate for the East Asia Nonproliferation Program (EANP) at CNS. This year's meeting saw a continuation of these frank discussions, particularly about North Korea and the continued disagreement on strategic issues like the South China Sea. In his closing remarks for the event, EANP Director Jeffrey Lewis stressed that recent dialogue between Beijing and Washington has not been as strong as it needs to be given importance of this relationship and that it was crucial that the two sides build on the momentum from this meeting to meet current and future challenges. All participants agreed that the series should continue, and there were calls by both sides to convene the Ninth U.S.-China Conference on Arms Control, Disarmament and Nonproliferation in Beijing in 2017.
Listen to a podcast of EANP Director Jeffrey Lewis's conversation with Aaron Stein about this conference as well as the previous week's high level discussions at CNS between the US and Russia on the North Korean nuclear threat.