Institute Community Reacts to Executive Order on International Travel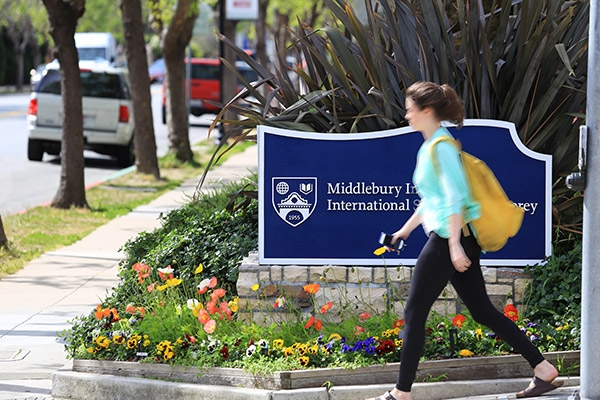 The recently announced executive order banning travel to the U.S. from seven Muslim-majority countries had a strong and immediate impact on the Middlebury Institute of International Studies' extended campus community of students, faculty, staff and alumni, which includes at least five current students from three different countries targeted in the order.
"The Middlebury Institute isn't just part of a global community – it is a global community," said Dean of the Institute Jeff Dayton-Johnson. "We don't know yet how this executive order may affect each of these individual students and their families because so much about it is unclear and unresolved." He added: "Over the past several years we have enrolled and graduated multiple students from the countries listed in this executive order. Some stay and do important work in the U.S. after graduation, while others return to their home nation with the goal of creating positive change there."
One third of Middlebury Institute students and half the school's faculty are originally from other countries, and its alumni network stretches all over the world. The Institute's 750-person student body currently includes natives of 64 countries.
As far as Middlebury staff have been able to determine, no current faculty, staff, or visiting scholars at the Institute are directly affected by the current order. Members of the campus community are encouraged to contact Kathy Foley, director of International Student & Scholar Services with questions or concerns. Middlebury has also created and will maintain a webpage with a list of resources; members of the campus community are encouraged to contact Director of Student Life Ryan Kasmier at the Institute with updates for the page.
Members of the extended campus community shared their reaction to the executive order both in conversations on campus and by e-mail.
"I never felt the heaviness of my identity until now," said one student directly affected by the order. "It was so hard to face the uncertainty and the need to explain myself that I felt from looking at social media and the news. And yet from the people who I see every day in school, the town that I live in and my new friends in this country, all I feel is support and comfort. The last week was the most difficult moment in my life and the happiest moment, too. Whatever happens in the future, I will be very proud to be part of the MIIS community."
Recent Commencement student speaker Adnan Al-Hammody MATESOL'13 said "Since the time I left the United States and returned to Iraq, I had my heart set on coming back there for a PhD. I do not know what will happen to that dream now. People here are shocked [by this action]. How can you basically label a whole nation as terrorists?"
Faculty also expressed concern. Nonproliferation and Terrorism Studies Program Chair Jeffrey Knopf noted that "Since World War II, U.S. leadership has been a crucial factor in mobilizing international cooperation to confront global threats, including those from terrorism and WMD nonproliferation. This executive order has the potential to damage the U.S. image and increase friction with other countries in the world. This could lead them to reduce their cooperation with us on activities that help keep Americans safe, such as sharing intelligence, monitoring the flow of goods, money, or people, or imposing sanctions for illicit activity."
Other members of the campus community shared personal stories. "We are both children of refugees," wrote one faculty couple. "Heekyeong [Lee]'s father escaped from North Korea during the Korean War and Ferenc [Dalnoki-Veress]'s father escaped from Hungary during the revolution in 1956. Seeing these refugees being denied hits close to home for us. Because we are green card holders we feel insecure about being here given the unpredictable situation and we are sure many members of the MIIS community will have similar stories and feelings."
The Veterans Organization at the Middlebury Institute commented that "There are gaps in the vetting process that could allow a potential threat into the U.S. However, the administration's hard-line directive could cause further pain and suffering for those who have committed to support the U.S. in the name of serving their own country, sometimes paying the ultimate sacrifice."
"This executive order has inevitably stirred emotions and started difficult conversations that are uniquely relevant to an international community such as ours," added Dayton-Johnson, "it's vital, however, that we have those conversations, and that we do so respectfully even when we may disagree passionately."
Middlebury is deeply committed to its global mission and to strengthening communication between people of different cultures and nations. Middlebury has operations in 17 nations outside the U.S. and partnerships through the Institute in many more. Middlebury includes:
Middlebury College (2,500 students)
Middlebury Institute of International Studies at Monterey (750 students)
Middlebury Language Schools (1,500 students)
Middlebury Schools Abroad (more than 600 students)
Middlebury College also has one affected undergraduate student, and one faculty member from Iran who is a legal permanent resident of the US. (See story.)
"Our dynamic and diverse international colleagues are central to Middlebury's mission and our community," said Middlebury President Laurie Patton, adding that "The Middlebury community will stand up for and work to support any of our members who are impacted by the travel restrictions."