Institute Doubles "Giving Tuesday" Goal in First Year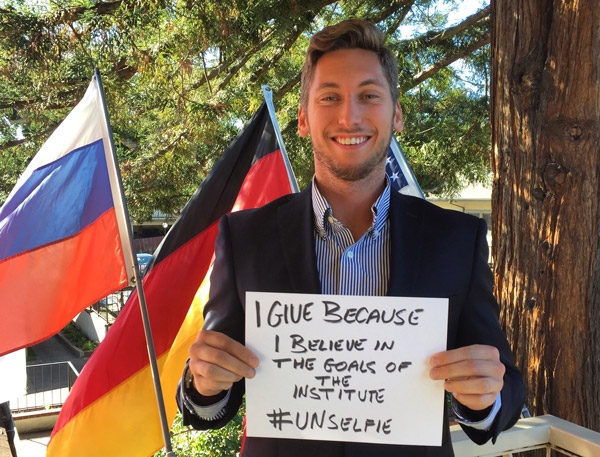 "Giving Tuesday" more than lived up to its name this November 29 at the Middlebury Institute of International Studies, whose first-time participation in the international philanthropic event netted more than twice the one-day campaign's goal.
Now in its fifth year, Giving Tuesday is described by its founders as both "a global day of giving fueled by the power of social media and collaboration" and "a movement that celebrates and supports giving and philanthropy." Designated for the Tuesday immediately following the twin holiday shopping milestones of Black Friday and Cyber Monday, Giving Tuesday is designed to kick off the charitable season, when many focus on their holiday and end-of-year giving.
In its inaugural year of participation in Giving Tuesday, the Middlebury Institute's Advancement team set what felt like an achievable goal—generating enough small gifts to hit the $7,500 match target established by lead donor the Cannery Row Company and another generous Institute supporter. With the help of active promotion on social media using the #GivingTuesday hashtag, in just 24 hours the Institute received 53 gifts totaling $27,974. After adding in the $7,500 match, the grand total for Giving Tuesday was $35,474, more than twice the initial campaign goal of $15,000.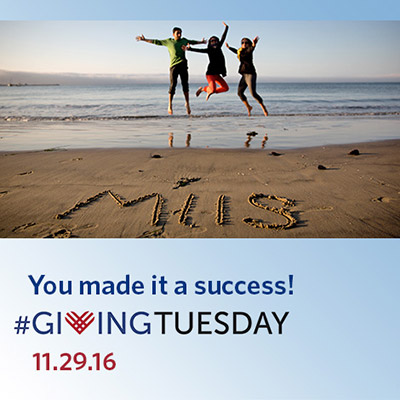 "Again and again, we see the enduring commitment of alumni, faculty, staff and friends to support the Institute's mission and students," said Executive Director for Advancement Kevin Wasbauer. "The response to this campaign was tremendous and you can expect to see it return again next year."
As part of the Giving Tuesday campaign, donors also shared "unselfie" images like the one above on social media—"selfies" that feature donors explaining why they are giving back.
Gifts to the Institute's Annual Fund provide scholarship support to students, sustain a robust academic community, and attract and retain world-class faculty. More than 90 percent of students qualify for and receive financial aid every year.