Institute Programs Receive $1.8 Million Boost from Carnegie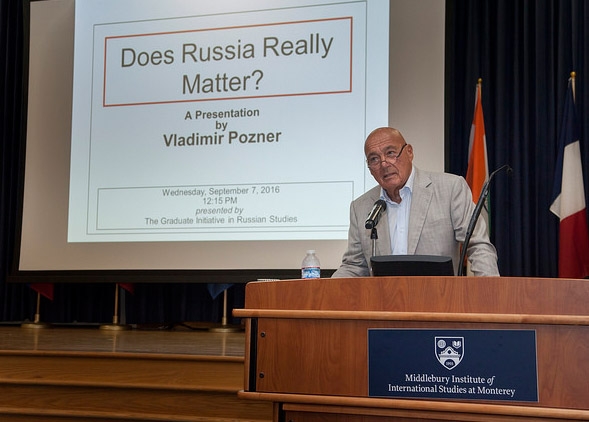 Carnegie Corporation of New York recently awarded nearly $1.8 million in grant funding to a pair of innovative programs at the Middlebury Institute of International Studies at Monterey, one focused on Russian studies and another focused on nonproliferation.
The first program, the Graduate Initiative in Russian Studies (GIRS), will receive $878,000 over two years to support: a new Monterey Summer Symposium on Russia; its existing, robust visiting experts program; paid internships in Russia; and a paid field research trip to the Russian Far East. The symposium and related activities will extend the existing GIRS program by "providing comprehensive instruction on vital issues of Russian domestic and foreign policy, security, and economics."
"This funding will allow us to bring 12 to 15 experts, mostly from Russia, to Monterey for lectures and seminars on specific topics," explains Professor Anna Vassilieva, who directs the GIRS. Sponsored participants in the seven-week, in-residence summer symposium will be handpicked from graduate students in top Russian Studies programs at graduate schools across the United States. Lectures will be presented in both Russian and English, and students will undertake individual research projects during the course of the program.
The Graduate Initiative in Russian Studies was launched in 2013 with generous support from Carnegie Corporation. The initiative's primary goal is "to equip graduates with a more nuanced, accurate, and clear-eyed understanding of contemporary Russia"; it combines elements of a traditional Russian language program with opportunities to learn from and collaborate with experts and scholars from Russia, engage in hands-on scholarship using primary sources, and develop language skills within the context of students' broader academic interests.
"Conversations at all levels about bilateral relations between the U.S. and Russia today are prone to stale, outdated generalizations," says Vassilieva. "It's essential for the future of this vitally important relationship that the next generation of specialists in this field hears from leading experts both in the West and in Russia and other post-Soviet states."
In addition to the GIRS grant, the Institute's James Martin Center for Nonproliferation Studies (CNS) will receive $900,000 over two years from Carnegie to fund activities including:
bringing visiting fellows from around the world to Monterey for nonproliferation training;
offering short courses on nonproliferation in Latin America, the Middle East, and Africa;
delivering workshops that engage both young scholars and senior government officials;
conducting collaborative research with Kings College London;
offering on-the-job training for Institute students; and
supporting international capacity building in the nonproliferation arena.
Now in its 27th year, CNS seeks to "combat the spread of weapons of mass destruction (WMD) by training the next generation of nonproliferation specialists and disseminating timely information and analysis." It is the largest nongovernmental organization in the United States devoted exclusively to research and training on nonproliferation issues.
"We're extremely appreciative of Carnegie Corporation's continuing commitment to supporting our nonproliferation education initiatives," said CNS Founding Director Dr. William Potter. "Their support ensures that CNS will continue to set the standard for education and training in this highly specialized and absolutely critical area."