Institute Wins Economic Vitality Award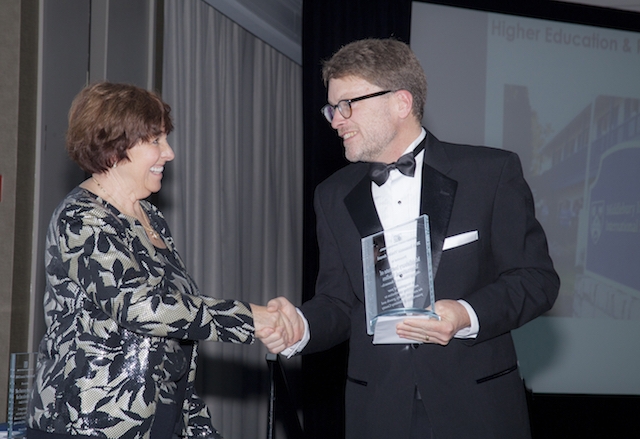 Known as a training ground for international professionals who want to make a difference around the world, the Middlebury Institute of International Studies was recently recognized for an achievement closer to home—its significant contribution to economic health of the Monterey region. On February 6, the Monterey County Business Council gave the Institute its 2016 Economic Vitality Award in the category of Higher Education and Research.
In accepting the award, Vice President of Academic Affairs and Dean of the Institute Jeff Dayton-Johnson noted that "While many of our students, faculty, and staff live, eat, and shop in downtown Monterey, the ripples of their community involvement extend much farther out into the county."
One of the cornerstones of the Institute's signature approach to graduate education is that we put our students to work addressing real-world problems, with the result that faculty members are constantly reaching out to organizations and businesses all across Monterey County, looking for opportunities for our students to work on projects that make a difference and have an impact on the community.
In recent months, Institute students and faculty have researched and interpreted data for community organizations in Salinas, taught French and Japanese to the Monterey-area residents, and commuted to Greenfield to teach English. The annual report on the economic impact of Monterey County agriculture was prepared by two Institute professors, and another faculty member has served as the moderator of several community forums in Salinas.
In addition, the Institute enhances the quality of life for Monterey County residents by serving as a venue for public events and sharing its scholarship with the community, hosting lectures featuring noted authorities on international topics almost every week that classes are in session. Finally, from time to time the Institute has assisted the council in educating companies considering locating in the area about the uniquely international characteristics of Monterey, known as "the Language Capital of the World."
Over the past six decades, the Institute has become "a vital part of the fabric of this community," noted Dayton-Johnson, "and I want to thank the Monterey County Business Council for this wonderful recognition."
The Saturday evening gala also featured awards in categories including Creative & Technology, Health & Wellness, Hospitality, Sustainable Building & Design, Agriculture, and Advancing Manufacturing, as well as a tribute to local Congressman Sam Farr, who will retire at the end of his current term. Congressman Farr is a longtime friend of the Institute and alumnus of our Summer Intensive Language Program.