Intensive English Student Symposium Offers Bird's Eye View of Global Issues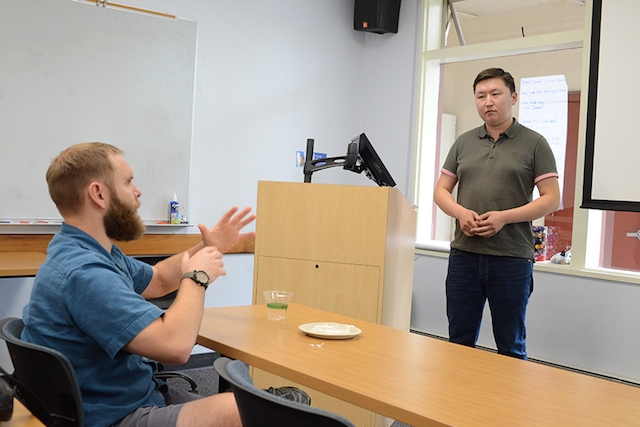 Students from the Middlebury Institute's Intensive English Programs presented their research at the eighth annual student symposium on Thursday, August 4th. The 2016 symposium, "All in One: A Bird's Eye View of Challenges Facing Humanity," showcased student research into global issues related to their interests and personal experiences.
Students in the English Program for Graduate Studies (EPGS) and the summer Intensive English Program (ESL) presented findings from a two- to three- thousand word research paper to an audience of community members, faculty and fellow students. "The idea is to replicate a professional setting," explains EPGS faculty member Julie Krolak MATESOL '10, "Students work on a paper and then present it like they would at a conference."
As people started to gather for the symposium in the Morse building on campus on Thursday, there was excitement in the air and a few nervous faces. The camaraderie of the group was also evident as students compared notes and exchanged supportive glances. "I love the small class size and how well you get to know everyone," said ESL student Jiyi Zeng, who is majoring in applied translation at a university in China. "My dream is to come back for graduate studies." Zeng bravely presented in the first session on the topic of "Piracy in the Chinese Film Industry."
The topics students picked often reflected their personal experiences and interests spanning the globe. The audience had the opportunity to learn about a great variety of challenges to humanity ranging from the terrible legacy of bullfights in Spain, to police brutality in Brazil, rising right-wing tendencies in Germany, and the aging population of Japan.
Kuanysh Agaidarov, a Bolashak scholar from Kazakstan, will begin his studies in the International Policy and Development program at the Institute this fall. With close to a decade of experience working as a consular officer, he feels strongly about the Syrian refugee crisis. He said the international community could be doing a lot more to help the situation and offered several ideas to improve conditions. "We are not without options," he said, encouraging his audience to "try our best to make sure there will never be a crisis like this again."
"Students learn best by doing," according to Rogers Walker, Associate Director of Intensive English Programs. At the symposium, "students present on real world problems affecting their communities, and describe realistic, well-researched solutions to these issues. The audience helps make this an authentic experience for students by bringing their genuine curiosity and by asking thoughtful questions."