International Business Competition: MBA Students Advance to Finals in Davos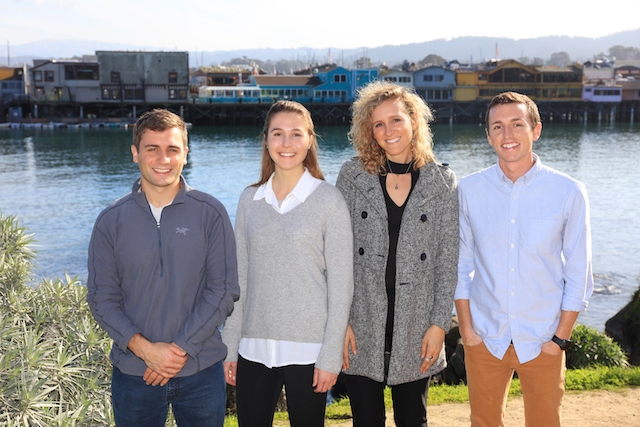 Four Middlebury Institute MBA students have advanced to the final stage of the International Business for a Better World competition, sponsored by Corporate Knights and the Schulich School of Business, beating out teams from leading universities around the world. Ben Grimmig MBA '17, Shannon Nolan MBA '17, Christina Lukeman MBA '17 and Nicholas Fisher MBA/MAIEP '17 will present their analysis to a panel of high profile judges in Davos, Switzerland in January, at an event that coincides with the World Economic Forum.
The Business for a Better World Case Competition, an international contest now into its fourth year, is a partnership between Corporate Knights, the company for clean capitalism, and the Schulich School of Business at York University in Toronto. This year teams were challenged to design a global equity portfolio that advances the United Nations' Sustainable Development Goals while also maximizing returns. Grimmig, Nolan, Lukeman and Fisher advanced to the second stage in November along with teams from five other universities around the world. On Monday they learned that they had advanced to the final stage along with a team from York University and another from McGill University. The team was coached by two faculty members in the Institute's Fisher MBA in Global Impact Management program, Sandra Dow and Yuwei Shi.
"A Purposeful Tilt" is the title of the team's proposal, which seeks to generate impact through a "tilting" strategy of a well-diversified portfolio. The team gives added weight to firms based on their proprietary financial and impact evaluation. Rather than create a single, stand-alone portfolio, they created a dynamic model that can be adapted to meet the specific needs of a target market. "I would say it is a beautiful document," says Lukeman, adding that it represents hundreds of hours of work and reflects the diverse backgrounds team members brought to the project. "It really all boils down to the team and how well we worked together and how much fun we had."
The team's shared passion for advancing social and environmental justice through impact investing was an important factor, according to Fisher. "We poured our hearts and souls into the document and I think it shows," says Nolan. They all agree that they competed as a team and as members of a learning community rather than as individuals.
"This entire competition process has been an incredible learning opportunity and one that really exemplifies the Middlebury Institute's unique value proposition in the overall MBA landscape," says Grimmig. He goes on to say that it took a village to help the team achieve its goals, with the dedication and guidance of Dow and Shi playing a crucial role. "I am pretty sure no other team in the competition had professors who were coming in on the weekends, dreaming of financial regressions or opening their homes to students to unwind and enjoy an early Thanksgiving dinner." The team says it is impossible to overstate the value of the support they have received from the whole community, advisors, faculty and colleagues.
"This is the product of a caring community," says Fisher of the opportunity to compete in the finals at the World Economic Forum. The final competition will take place on January 19 in Davos.