Learning the Fine Art of Crisis Negotiation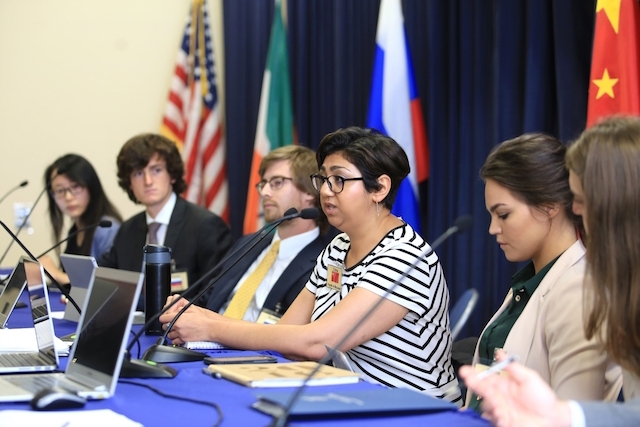 What does it really take to resolve a complicated international conflict? Seventy students from the Middlebury Institute, California State University Monterey Bay, the Naval Postgraduate School, UC Berkeley and Stanford convened last weekend at the Institute's downtown Monterey campus for a simulation of an internationally sanctioned peace conference called to break the long-standing conflict between nuclear-armed India and Pakistan over the contested Jammu-Kashmir region.
The International Strategic Crisis Negotiation Exercise (ISCNE) was developed 12 years ago by faculty and staff of the Army War College, who facilitate the exercise, and is hosted at different locations around the country to provide graduate students an important training opportunity in the fine art of crisis negotiation.
The ISCNE exercise held at the Institute is the first to be held on the West Coast and was organized by Lt. Col. Chris Wendland, who is currently serving as an Army War College Fellow at the Middlebury Institute. Wendland says he is "truly thankful" to the Institute for hosting the exercise, not the least for opening it to participants from other graduate and undergraduate programs, which is unusual. "The diversity of the student participants' education and background as well as the caliber of the students selected to participate made this ISCNE an incredible success."
Army Col. Dave Price, director for senior leader education at the U.S. Army War College, agrees with Wendland and says the Institute hosted event could become a model for the future.
Participants role-played members of a diplomatic mission on one of seven negotiation delegations invited to the conference. Each team was charged by their government with negotiating a solution advantageous to their national interests, and was mentored by a faculty member, an invited regional subject matter expert, or a retired U.S. Ambassador.
"The simulation was a great opportunity to put negotiation skills into practice trying to resolve a real conflict. Having to negotiate on behalf of China enabled me to view the conflict through a different perspective and gave me a new appreciation of the incredible complexities of international negotiations," said Middlebury Institute student Katie Lampe MAIPS '16.
Lampe and other Institute students participating in the simulation did so as part of a workshop course led by Professor Sharad Joshi. Adding to the uniqueness of the Institute event, students from the Translation and Interpretation degree programs offered interpretation services during the negotiation sessions.
The conflict is not called intractable without reason and, despite their best efforts, students did not come up with a final resolution that all parties could agree to. They did, however, leave with a heightened appreciation of the challenges involved with international crisis negotiations. As Lampe remarked: "It's a wonder that anything ever gets accomplished in the world with so many competing interests to appease."