Middlebury Appoints Jeff Dayton-Johnson to New Leadership Role at Monterey Institute of International Studies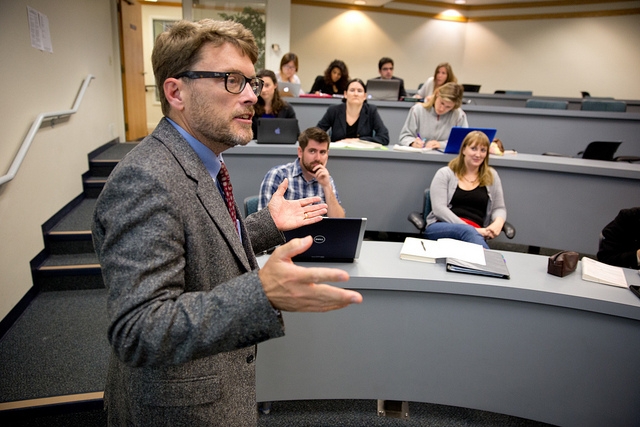 The Monterey Institute of International Studies, a graduate school of Middlebury College, announced today that Middlebury President Ronald Liebowitz has appointed Jeff Dayton-Johnson as vice president for academic affairs and dean of the Institute on an interim basis through June 30, 2016. Dayton-Johnson will serve as chief academic officer at the Institute and will be responsible for the overall success and functioning of the school in collaboration with the senior administrative team at Middlebury.
"I want to thank Jeff for agreeing to take on these new responsibilities," said Liebowitz. "We look forward to working closely with him in his new position, which aligns the administrative structures at Middlebury and Monterey consistent with the recommendations from our recent reaccreditation." The new position will succeed the position of president of the Institute when the current president, Dr. Sunder Ramaswamy, steps down on January 31, 2015.
"The Monterey Institute is a truly special and unique school and it's a privilege to be asked to take on this role at this time," said Dayton-Johnson. "I hope to bring even greater visibility to the really distinctive aspects of the Institute and the real-world, problem-solving focus of our curriculum that produces students who graduate ready to hit the ground running. I'd like to see us continue to add immersive learning opportunities for both our language and our policy and business students."
Since June, Dayton-Johnson has been transitioning into a leadership role within the Graduate School of International Policy and Management (GSIPM), with the expectation that he would begin serving as interim dean of GSIPM beginning in January. "During this time," added President Liebowitz, "Jeff has emerged as a leader who is able to work across programmatic boundaries and who communicates the Institute's curricular distinctiveness with compelling clarity."
Recently, Dayton-Johnson helped lead the integration of the Master of Public Administration and International Policy & Development programs into a coordinated program in Development Practice and Policy.
Dayton-Johnson joined the faculty in Monterey in 2011 and since that time has published two books on the political economy of Latin America. Prior to coming to the Institute, Dayton-Johnson spent seven years as a senior economist at the Organisation for Economic Co-operation and Development (OECD) in Paris. He was the first head of the Americas Desk at the OECD's Development Centre. Prior to that, he was a tenured associate professor of economics and international development studies at Dalhousie University in Canada. Dayton-Johnson received his PhD in economics from the University of California, Berkeley, and received his undergraduate education in Latin American studies at Berkeley and the Universidad Nacional Autónoma de México.