Middlebury Institute Team Wins 2nd Place in Economist Business Case Competition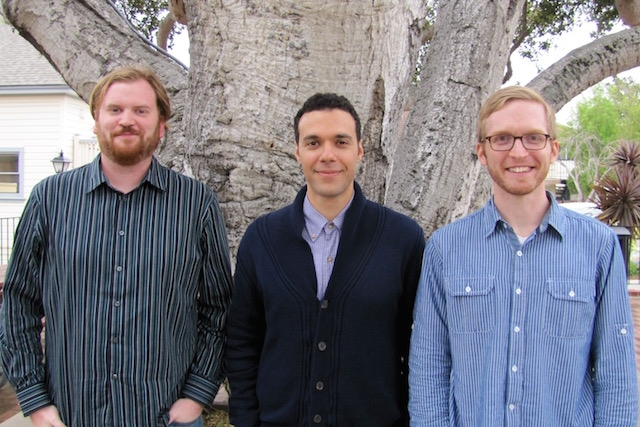 Beating out competitors from many of the best known business programs around the world, a team from the Middlebury Institute of International Studies at Monterey won second place and a $5,000 cash award in The Economist's 2016 Which MBA? case competition. This year's team follows in the footsteps of the Institute team that won this competition last year and other MIIS teams that have recorded strong finishes in other recent business case competitions.
"It was such a great experience," says team member Michael Mahoney MBA '16. "You learn so much in a short period of time." As is typically the case at the Middlebury Institute, the team members have a lot of international experience. After graduating from McGill University, Mahoney worked in publishing and corporate governance in both Japan and the US. Hesham Alsaati MBA/MAIEP '17 is a Fulbright student from Bahrain who worked as a consultant at KPMG before moving to Monterey, and classmate Thomas Gilmore MBA/MAIEP '17 served in the U.S. Navy for six years as a Chinese language analyst. They are both studying for a joint degree in business administration and international environmental policy.
Gilmore says that the support the team received from faculty and staff was invaluable. This year's challenge was sponsored by Real Vision TV, an on-demand channel for investing. The question teams had to answer was: "Walmart vs. Amazon: Which stock would you choose to invest in if you couldn't sell for a decade and why?" The deliverables included both a detailed analysis and a five-minute video to support their investment thesis. The Institute team's video was produced with support from Mark Basse of the Digital Learning Commons.
All three students agree that working on this project was "a fun kind of challenge," noting that they made the choice to participate in this competition together. "We worked until late into the night before the due date," shares Alsaati, adding that it was sort of like a movie scene as it was a rare stormy night in California. "We sat in the Samson Reading Room eating trail mix and typing furiously," adds Mahoney, laughing.
The top five videos will be aired on Real Vision. The winning team came from Ted Rogers School of Management at Ryerson University and third place was awarded to a team from Brigham Young University. Others participating in the competition included teams from Johns Hopkins, the Fletcher School of Law & Diplomacy at Tufts, the Tuck School of Business at Dartmouth, the Kogood School of Business at American University, and the London Business School.