MIIS Alumna Jill Morgenthaler: Taking the Lead – and Telling It Like It Is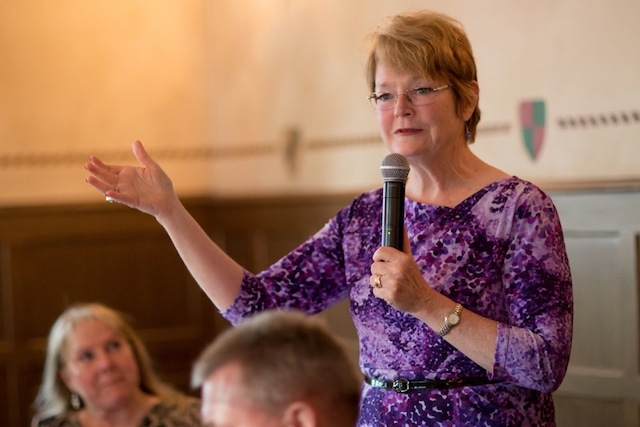 Jill Morgenthaler MAIPS '83 has never minded taking the lead. As an undergraduate student at Penn State, she signed up for the ROTC as soon as it opened up for women. As one of only 83 female cadets at an inaugural boot camp for women in 1975, on a base of 50,000 men, she learned a thing or two about conquering obstacles. Along with the other pioneering women serving alongside her, she had to work hard to prove her worth, face sexism and unfairness, but also learn to pick her battles.
She initially served in the U.S. Army in South Korea along the Demilitarized Zone before being stationed in Germany. "To tell you the truth, I was bored in Germany," she says with characteristic frankness. "The early 1980s were peaceful and there was not the same sense of urgency as I found in South Korea." It was then that Jill discovered the small school in Monterey that would become her home for the next two years.
"After five years in the military, in a male-oriented hierarchical culture, it was a big change to come to MIIS," she says, adding that it was great way to acclimate back to life in the United States and prepare for a civilian career. "I loved Penn State, but it was very big; MIIS was the opposite, small, liberal, and so California!" Jill recalls occasionally having to fight stereotypes when people automatically assumed that she was conservative because of her military background. "It's actually kind of fun to shatter people's expectations," she says, laughing heartily.
Still in the Reserves while at MIIS, Jill was stationed in Fort Ord, which was at the time a very vibrant military community and home to the 7th infantry. She became fast friends with Kathy Ozyuart (neé Chambers) (MAIPS '83), who introduced Jill to her brother, and several years later became her sister-in-law. Jill and her husband currently live in Chicago, but are considering a move back to California. Missing the California life and the weather, she loves visiting Monterey and seeing "how well MIIS is thriving."
Jill had many firsts as a female leader in the U.S. Army and while serving in leadership roles in Bosnia and Iraq. For her leadership performance in Iraq, she was awarded the Bronze Star, and upon retirement, she received the Legion of Merit. In her leadership roles, she used many of the skills she learned at MIIS, including her aptitude for languages, particularly in Bosnia where she commanded 37 soldiers from 19 different countries and had to overcome suspicions towards her as a woman and a U.S. commander. "It helps when they see you are trying to communicate in their language."
She says she always had a book in her. For a long time, though, she thought it was a spy novel. "But it turns out I only had one really great scene," she says. Then she thought it might be an autobiography, but no, that did not seem right. Finally she figured that she should write about what she had been trained for since she was 18: leadership. Her book, Courage to Take Command: Leadership Lessons from a Military Trailblazer (McGraw Hill 2015) is filled with stories and lessons, described by Jill as more of a practical guide than academic study. Currently, she travels the world giving talks about leadership and hosting workshops, such as the one she recently held for the U.S. Department of State for 120 women from Central Asia, Africa, and Latin America.