MIIS Alumni Find Exciting Jobs & Adventures Together in Saudi Arabia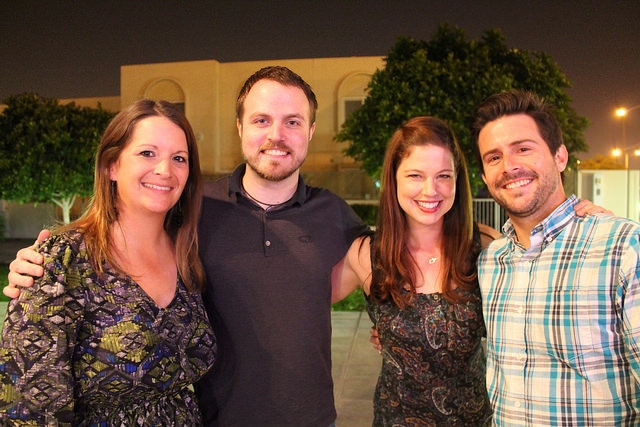 program. It started with the married couple Jennifer Grode (MATESOL '11) and Mike Garnett (MATESOL '12) who saw an opportunity for an interesting professional experience with the added bonus of good earning potential. Mike says he thought to himself: "If I'm going to Saudi Arabia, I'd better bring friends!"
The five friends are Jennifer and Mike, Joseph Clark (MATESOL '12), Courtney Pahl (MATESOL '11), and Philip (P.J.) Standlee (MATESOL '11). Though they hadn't met each other before coming to Monterey in 2009, Jennifer and Courtney quickly became friends and collaborated on numerous projects, including co-chairing the regional CATESOL conference held at MIIS in 2010. They also became fast friends with Mike and Joseph, and later P.J., who joined them in Damman at the end of 2014.
Classes are segregated by gender at the Saudi Electric Services Polytechnic (SESP), where Mike and Joseph teach English classes for specific purposes to employees of the Saudi Electric Company. Mike says it has sometimes been a challenge to get their students to focus, but at the same time it has been fascinating to learn about their culture and daily lives. "This is not a hardship post by any means," he says, adding that, when homesick, they can shop at their local Safeway store and eat at many of the same restaurants as home. Before coming to MIIS, Mike taught English at an international school in Aleppo, Syria for four years, and he is happy to be back in the Middle East.
Courtney and Jennifer run SESP's new English Outreach Program, designed to provide English classes to traditionally underserved populations in the area. Their students come from Saudi Arabia, Syria, Egypt, Jordan, and Palestine. They are among the first and only female employees of the company. Navigating the dynamics of the male-dominated company has been challenging, especially since they are not able to visit the main campus. Courtney also says that it has been a challenge to learn and understand culturally appropriate behavior, both in the work environment and in everyday settings. Part of the adjustment includes not being allowed to drive and the clothing restrictions. She and Jennifer are required to wear an abaya anytime they leave the house, and often a hijab to cover their hair, which can be uncomfortable in the 120-degree summers.
and Courtney will be presenting at the TESOL Arabia conference in Dubai this month, where they hope to catch up with another MIIS alumna, Greta Shoop (MATESOL '11), who lives and works there.