MIIS MBA Team Takes First Prize and $10,000 Award in Economist Case Competition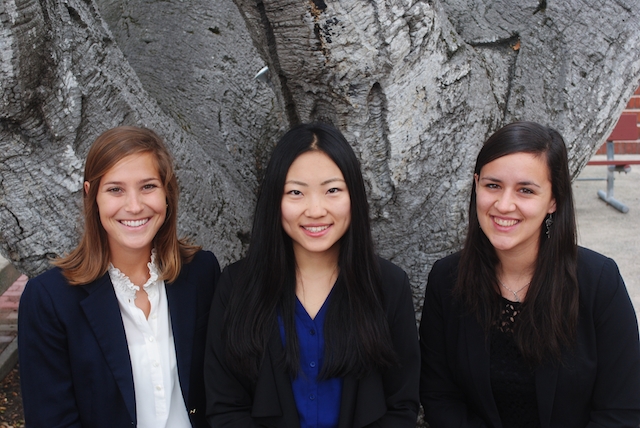 Two students and a recent alumna from the Middlebury Institute of International Studies at Monterey took first place in a 24-team international MBA case-study competition sponsored by The Economist magazine.
Whitney Hales MBA/MAIEP '14, Nuan He MBA '15, and Meagan Braun MBA/MAIEP '15 will collect a prize of $10,000 for their winning entry in the competition, which asked the teams to evaluate the strategy and financial assumptions behind a recent corporate acquisition. They beat out rival teams from MIT Sloan, the Carey Business School at Johns Hopkins University, INSEAD, and others.
"Our success illustrates the true uniqueness of MIIS—our strong academic rigor, amazing faculty, and ability to compete with the best in the world," said Hales.
MBA Program Chair Sandra Dow, who served as a faculty advisor to the team along with Professor Yuwei Shi, says she is "thrilled" with this result. "The new MBA in Global Impact Management that we are launching in the fall of 2015 focuses on 'out-of-the-box' thinking while providing students with traditional hard skills required by business professionals. This competition provided an opportunity to showcase exactly these talents." Professors Dow and Shi offered a course dedicated to case competitions last fall, acknowledging the time and effort students put into their assignments and aligning their participation with the pedagogy of the new MBA program.
Professor Dow says her email box is already filling up with messages from alumni and current students buzzing with excitement about the great achievements of the team. She says she "can't say enough about the benefits of participating in case competitions." The winning team had to become experts in the rates of millennial homeownership, and link converting website visits to revenue. They also consulted a Yale corporate law expert on the legal issues related to their suggestions. Professor Dow says she is proud of the women's tireless work and "meticulous and insightful research."
"This is the latest of our big wins," says Professor Shi, noting that MIIS students have shown to be very competitive in the toughest international competitions. Last year a team of MBA students from MIIS traveled to the World Economic Forum in Davos, Switzerland to compete as one of three teams from top universities around the world in the Business for a Better World competition, and another team from MIIS advanced to the top five in the same competition this year.
Yet another MIIS team beat out hundreds of competitors to win a place in the 2014 Hult Prize Regional Finals and although they were beat out by a team from MIT, they were invited to participate in a special accelerator program in Boston and are now working on launching their pilot project in Mexico. Two teams from MIIS have advanced to the Hult Regional Finals in 2015.
More details on The Economist competition are available here, and the formal announcement of competition results can be viewed