MIIS Students Enjoy U.S. and Mexican Traditions at New Fall Festival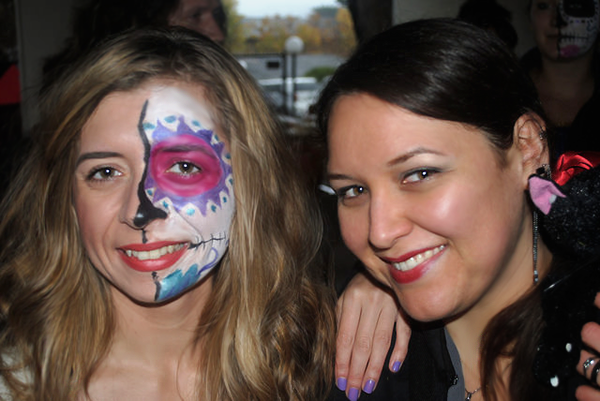 The Student Council at the Monterey Institute has started a new tradition at MIIS, celebrating the harvest season with a three-day festival that started on Wednesday with a pumpkin-carving event, continued Thursday with an outdoor scary movie party, and culminated in a series of events on Friday, October 31st. Students competed for the tastiest pie, the scariest pumpkin carving, and the best costume while trying their skills at apple bobbing, corn husk throwing, and other activities.
As it turns out, in drought-stricken Monterey, when it rains, it truly pours! The rain on Friday did nothing to damper the spirit of the day, though, as can be seen from the photos. Students could also learn about and celebrate traditions from across the border to the south. In honor of the Mexican Dia de los Muertos, students offered special face paints and pan de muertos tastings, as well as delicious Mexican hot chocolate. Participants were invited to share a song or a few words as an offering.