The Multiplier Effect: TESOL Alumnae Train Teachers in Haiti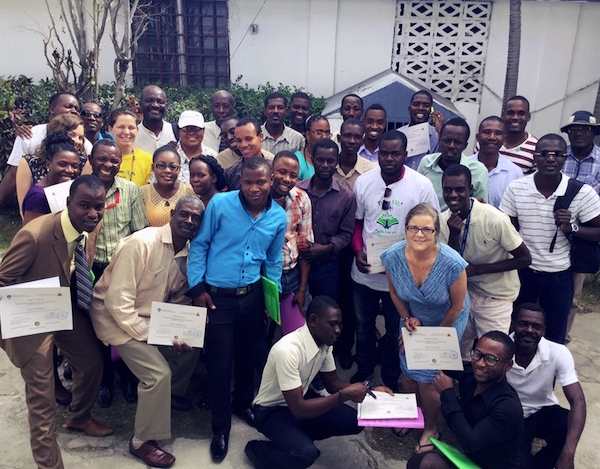 Three alumnae of the Middlebury Institute's Teaching English to Speakers of Other Languages (MATESOL) degree program traveled to Haiti on December 23rd, joining hundreds of Haitian family members with suitcases filled with Christmas presents. Lisa Donohoe MATESOL '09, Vanessa Hoffman MATESOL '15, and Lucy Crouppen MATESOL '16 carried something different with them - suitcases of teaching materials and an intrinsic drive to share the Monterey Way — communicative language teaching (CLT) and content-based instruction (CBI) methodologies — to 33 English teachers in Haiti.
They traveled to St. Andre's School in the town of Hinche, the capital of Haiti's Central Plateau to provide a 30-hour teacher training workshop in which local English as a Foreign Language (EFL) teachers receive a crash-course in applying Institute TESOL teaching methods in Haitian classrooms. English is an important second language in Haiti for finding economic opportunities at both the personal and organizational levels. Although students do well on national exams, the methods shared in the training workshops aim to help students to be more communicative as English speakers, enabling them to find better jobs, partner with outside organizations for development projects in Haiti, or attract outside business for the struggling economy, among other incentives.
Donohoe initiated "MIIS Team EFL Haiti" in 2013, prompting students in Professor Peter Shaw's Curriculum Design course to take on a curriculum design project for St. Andre's School. Since then, six curriculum design teams have developed curricula for the school, some of them traveling to St. Andre's to work with teachers and the community. In the process, the project identified the need to train teachers in TESOL methodologies in order to deliver the curricula. Consequently, Donohoe applied for a Rotary International Global Grant to fund a train-the-trainer (TTT) program for English teachers in the Central Plateau region. The train-the-trainer program now runs in conjunction with curriculum design projects in professor Shaw's and Jason Martel's curriculum design courses. Today, Shaw continues to play an integral mentoring role for all Institute students and alumni involved in the project.
Through cooperation with Institute curriculum design teams and Rotary, MIIS Team EFL Haiti had already developed a community of teachers in the region. In December 2015, the train-the-trainer program was launched by Vanessa Hoffman and Ruth Castillo MATESOL '15 with thirteen community teachers. In the spirit of train-the-trainer, several of those who received the training went on to train other teachers in their communities. Consequently, in the months leading up to the December 2016 workshop, Donohoe and her local counterparts used word of mouth and the program's positive reputation to recruit 33 local teachers for training. In fact, teachers came from towns in all parts of Haiti, including small communities hit hardest by Hurricane Matthew.
In a positive partnering development, ten of the trainees are teacher leaders or coaches in Anseye Pou Ayiti (Teach for Haiti), a leadership development organization for teachers in Haiti run by Nedgine Paul. Their positive response to the train-the-trainer program could influence hundreds of others involved in Anseye Pou Ayiti. In addition, because the Haitian trainees work in a wide array of subject matter and schools, the pedagogical nature of the training was relevant and applicable to all of the trainees, whether they were working professionals or volunteers. Volunteer teachers are an important element of grassroots movements in Haiti to improve education.
It is no secret that many of the institutions in Haiti are struggling to provide even basic services to the population. The teachers involved in the TTT workshop were enthusiastic participants who have taken the initiative to improve their own pedagogical practices within the traditional Haitian education system. The tenets of TTT, however, help them to take it further. In keeping with the idea of "paying it forward," local trainees committed to becoming local trainers, taking the methods and tools they learned in the workshop run by MIIS Team EFL Haiti to the wider community. The fruits of this model were evident in the December workshop, where four past trainees took on co-trainer responsibilities, providing the MIIS Team EFL Haiti with a truly intercultural training team — including alumnus Arnold Africot MAIEP '15 and current student Evens Lanot MANPTS '17, who serve as intercultural and language coaches for Monterey teams. It is hoped that by seeing Haitian teachers as collaborators, other teachers will be encouraged to take an active role in training their colleagues.