New Class of Dean's Fellows Dreams Big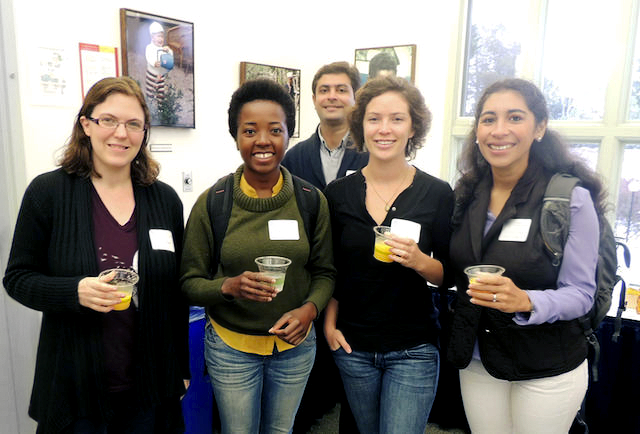 The Dean's Fellows program at the Middlebury Institute offers students with high academic achievements as well as a demonstrated commitment to the mission of the Institute the opportunity to be part of a special Global Issues Seminar directed by Dr. Jeff Dayton-Johnson, vice president for academic affairs and dean of the Institute. The twenty-one new fellows were welcomed to campus at a breakfast event in the Samson Reading Room last week.
The Global Issues Seminar features a variety of policy makers, industry experts, and practitioners, as well as distinguished Institute faculty. These special guests represent all levels of government both here in the U.S. and abroad, as well as non-profits, international organizations, the corporate sector, and the language learning and educational sectors. "The content of the Global Issues Seminar will span a variety of interest areas that are relevant to all of us," Dayton-Johnson told the group.
The new class includes a Navy veteran, people passionate about environmental issues, language professionals taking their careers to the next step in either interpretation or teaching, nonproliferation and terrorism experts, and mid-career students looking to pivot from Silicon Valley into international trade.
Native Californian Amy Nguyen MAIPD '18 first heard of the Institute through alumnus Scott Webb MPA '07, now a career and academic advisor at the Institute, while working for Catholic Relief Services. She is very excited about the opportunity to get to know a diverse cross-section of her classmates better. Fellow International Policy and Development student Taylor Hadnot MAIPD '18 agrees and says she "particularly likes the idea of working with faculty who also are professionals with relevant experiences." After working in education in lower income areas, Hadnot became frustrated with the system and people "giving up trying to fix it." She experienced the "exact same thing" teaching in Thailand. She wants to work to improve access to quality education and explore ways to help migrants and refugees.
Many of the fellows have been influenced by world events that have touched them personally and are seeking an education at the Institute to help increase understanding and bring about change. Lama Ramjous MAIPD '18 had started on her master's degree at home in Syria, but had to stop because of the war. She came to Monterey with scholarship support from the Institute and hopes to return home to Damascus to work on rebuilding her country and helping refugees. The threat of terrorism that hangs over Europe led Italian Mauro Lubrano MANPTS '17 to explore the "why" of radicalization, especially second and third generation radicalization. He said there was never any question that the Institute would be the best place for him. Lubrano became a Dean's Fellow last spring and will continue in the program through fall semester.
Austrian Veronika Fernberg MANPTS '18 had the opportunity to attend the World Conference of Nobel Peace Laureates and spend some time with legendary activist Jody Williams, founding coordinator of the International Campaign to Ban Landmines. Fernberg is interested in examining the morality of nuclear weapons and says with a smile that it would be her dream "to become the Jody Williams of nuclear weapons." She is quick to add that she is aware of the big challenges ahead, "but without big dreams, how are we supposed to make a real difference?"