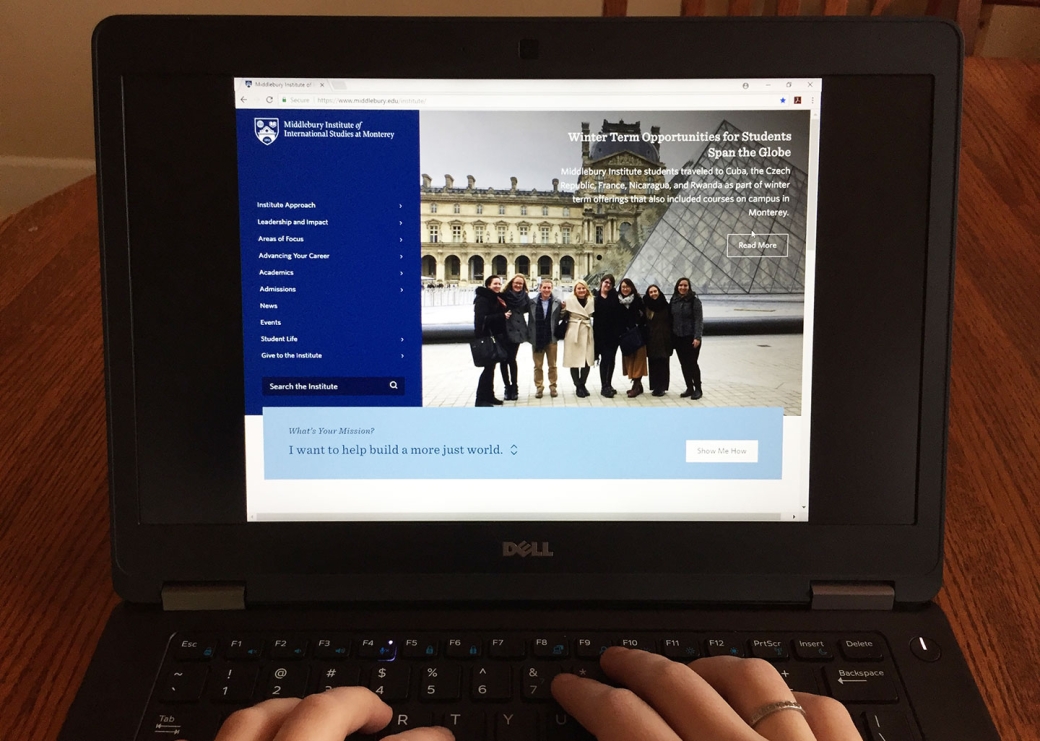 After more than a year of consultation and development, the Middlebury Institute of International Studies at Monterey today debuted a new website designed to give prospective students a clearer and more compelling sense of the value of the Institute's approach to graduate education.
The new site uses enhanced storytelling tools and, using responsive design, is designed to work equally well on devices of all sizes, from desktop computers to smart phones. It is the first major redesign of the school's website since 2009.
"The new Institute website offers us a more versatile and robust platform for telling stories about the remarkable work being done by our faculty, staff, students, and alumni," said Jeff Dayton-Johnson, vice president for academic affairs and dean of the Institute. "We want to help prospective students envision themselves coming to Monterey, joining our academic community, and gaining the tools they need to make a difference in the world." 
The new site encourages visitors to find and follow their own discovery path. Content is organized not only by departments and degree programs, but also by "areas of focus," which allows someone to explore possible career interests and learn how the Institute's programs connect to those interests.
The new Institute site is the first to be launched as part of a multi-year initiative by Middlebury that will include the redesign and relaunch of sites for all of Middlebury entities, including Middlebury College, the Middlebury Language Schools, the Middlebury C.V. Starr Schools Abroad, and the Middlebury Bread Loaf School of English.
"Within the next few years, every Middlebury site will evolve into an integrated component of middlebury.edu," said Bill Burger, vice president for communications and chief marketing officer at Middlebury. The integration process includes migrating the home page for the Institute website to its new location at www.middlebury.edu/institute. Links to pages on the old site at www.miis.edu will redirect users to the corresponding pages on the new site. "Over time, bringing all Middlebury sites under the middlebury.edu domain will leverage the strength of the domain and improve search results for all our schools," added Burger.
The new site benefited from input from faculty, staff, students, and alumni during the research and development process that led up to today's launch. Middlebury partnered with the New York City agency Digital Pulp on the project. "It's an exciting moment for all of us and another significant step forward for the Institute," said Dayton-Johnson.