New 'President's Course' Will Focus on Water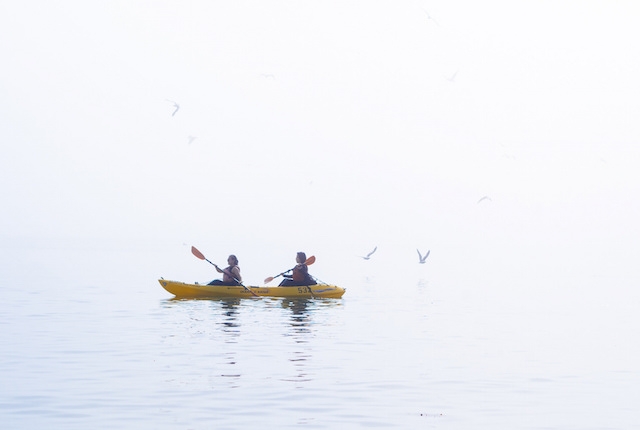 A new course that will connect classrooms in Middlebury and Monterey begins this week with the launch of "Water In An Insecure World: Symbol, Resource, or Commodity?" Each week of the spring semester, 20 students from Middlebury College and 20 from the Middlebury Institute of International Studies at Monterey will meet via video conference for lectures, discussions, and class activities. A public-facing website will allow alumni and the general public to follow along with the course by keeping up with readings, watching recorded lectures, and receiving an electronic newsletter.
President Laurie Patton, who taught similar courses at previous institutions, created the new offering with Dan Brayton, associate professor of English and American Literatures at Middlebury College, and Lyuba Zarsky, who has a joint appointment with the Middlebury Institute's International Master of Business Administration and the International Environmental Policy programs.
"The big idea of the president's course is to harness the intellectual energy of all of our Middlebury communities on a single topic, across multiple academic disciplines," said Patton. "I can't wait to see what emerges from this first session. We're already thinking about how we can expand the course in the future to engage more students, faculty, staff, and alumni."
Each week the course will convene a seminar on an aquatic topic with guest lecturers, break-out conversations, and video-conferenced interaction among peers at the College and Institute. In week one, for example, Professor of Geology and Environmental Studies Peter Ryan will bring a scientific perspective to the classroom, lecturing on "water as planetary life-giver, where water came from, global hydrological cycle, and water in a changing climate."
Week two, in contrast, brings a humanities perspective, as Patton, a scholar of South Asian culture, leads a discussion on water's significance in religion and spirituality. As the semester unfolds, other guest speakers will delve into economics, politics, literature, and ecosystems of water.
As part of their coursework, students will collaborate on a local water case study, engage in discussions with scholars and peers of diverse backgrounds, and produce a water-based art project.
Although credit for the course and attendance at live class meetings is offered only to current Middlebury College and Institute students, alumni and the general public are invited to follow the president's course by reading course materials and watching course videos, which will be available online within 2-4 days of the course meeting.
For more information, visit the president's course website.