Nonproliferation and Terrorism Studies Student Presents at Washington D.C. Conference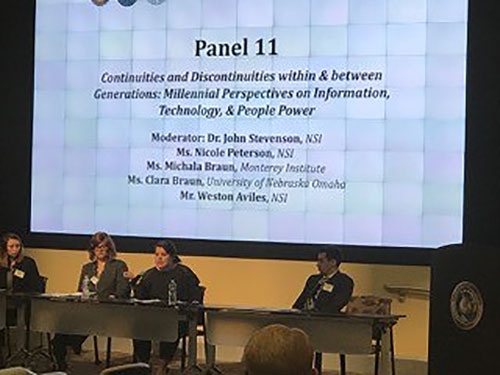 Nonproliferation and Terrorism Studies student Michala Braun presented a paper at the annual Strategic Multilayer Assessment (SMA) conference, held on April 3-4, 2018, in Washington, D.C. The SMA project is a small office in the Pentagon that reaches out to the scholarly community for research and advice to assist the U.S. military in addressing security problems, such as terrorism, that cut across standard jurisdictions within the military. The SMA conference was sponsored jointly with the Office of the Director of National Intelligence, the Department of Homeland Security, and the National Counter Terrorism Center.
Braun had a proposal accepted to present the results of field research she conducted in fall 2017 on Female and Child Suicide Bombers in West Africa. She was selected to present a poster at a special session of the conference dedicated to work by graduate students. In addition, she was one of just two students from among the 15 graduate students who presented posters who was also invited to give a talk about her research as part of a panel session.
"I am so grateful for the opportunity to present my research at a professional level," said Braun. "There is something to be said about spending long hours on a project and being able to take your deliverable to the next level. This opportunity allowed me to develop myself professionally in a way that I haven't been able to before. Working on my presentation skills, analytical skills, and professionalism are just some of things I took away from this experience. I am very grateful to my professors for their support throughout this process."