Nonproliferation Conference Brings High School Students from U.S., Russia and Japan to Nagasaki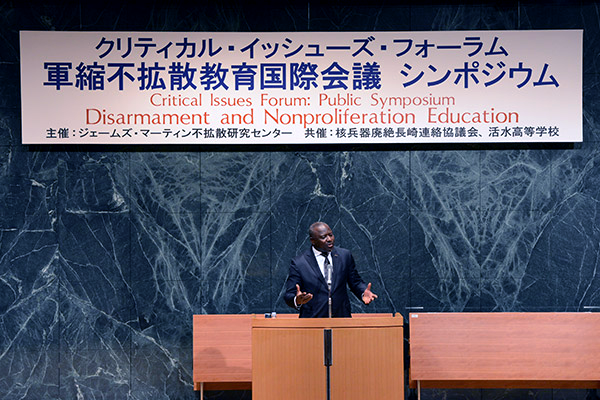 High school students from the United States and Russia joined Japanese students in Nagasaki, Japan, for the 20th annual Critical Issues Forum (CIF) conference on nuclear disarmament and nonproliferation education April 3-5. Dr. Lassina Zerbo, executive secretary of the Comprehensive Nuclear-Test-Ban Treaty Organization (CTBTO), served as the keynote speaker for the annual conference.
The CIF program, part of the James Martin Center for Nonproliferation Studies (CNS) at the Middlebury Institute of International Studies at Monterey, co-hosted the annual conference with Kwassui High School in Nagasaki and the Nagasaki Council for Nuclear Weapons Abolition. Six high schools from across the United States and four high schools from Russia's closed nuclear cities joined students from seven Japanese high schools from different parts of the country at the conference in Nagasaki (full list below).
"The CIF conference is always an inspiring event," commented CIF Program Director Masako Toki. "This year's conference offered a remarkable opportunity for American and Russian high school students to meet people in Nagasaki who have experienced the use of nuclear weapons and to understand their impact on a personal level."
During their visit, students toured the Nagasaki Atomic Bomb Museum and listened to the testimony of a hibakusha, an atomic bomb survivor. Students also visited the Nagasaki Peace Park and the Shiroyama Elementary School, a since-closed elementary school that lost over 1,400 pupils as a result of the atomic bombing. The school has been designated as a cultural heritage site by the Japanese Government.
On April 4, CBTBO Executive Secretary Dr. Lassina Zerbo spoke to participants at the public symposium portion of the CIF conference, which was held in the Nagasaki Atomic Bomb Museum Hall. Dr. Zerbo also participated in a student panel discussion moderated by Professor Keiko Nakamura at the Research Center for Nuclear Weapons Abolition at Nagasaki University. Nagasaki Mayor Mr. Tomihisa Taue, Nagasaki Governor Mr. Hodo Nakamura and other Japanese officials attended the symposium as well.
The conference also featured two days of student presentations in which all the participating schools gave presentations on the "Comprehensive Nuclear-Test Ban Treaty and its Role for a World Free of Nuclear Weapons."
This was the first time that the CIF conference has been held in Nagasaki; in previous years conferences have been held in Monterey, Russia, and Hiroshima, Japan. Since its inception in 1997, the CIF program has engaged thousands of American and Russian high school students and introduced them to a variety of nonproliferation and disarmament issues. The project began engaging schools in Japan in 2013.
There was significant media coverage throughout the three-day event. Each day, NHK, Japan's national TV station, broadcast highlights from the conference. The full report of the conference organizers is available online.
PARTICIPATING SCHOOLS
United States
Choate Rosemary Hall, Wallingford, CT
Harker School, San Jose, CA
Dr. Olga Mohan High School, Los Angeles, CA
Pacific Grove High School, Pacific Grove, CA
Punahou School, Honolulu, HI
Rock University High School, Janesville, WI
Japan
Hiroshima Jogakuin Senior High School, Hiroshima
Kaisei High School
Kansai Soka Senior High School, Katano
Kwassui High School, Nagasaki
Nagasaki Higashi High School
Soka Senior High School, Tokyo
Yokohama Senior High School of International Studies
Russia
School No. 41, Novouralsk
School No. 39 Ozersk
School No. 125 Snezhinsk
School No. 164, Zelenogorsk