Philanthropy Day Celebration Honors Institute Supporters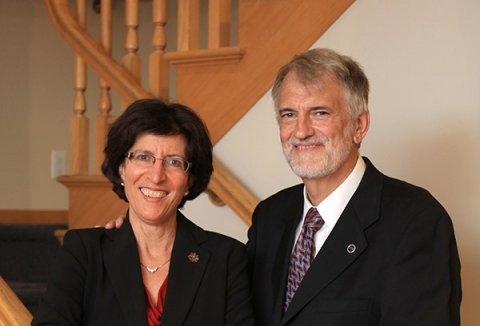 Longtime Middlebury Institute supporters Tom and Sarah Pattison were among those honored at the annual Central Coast National Philanthropy Day celebration in Pebble Beach on November 18. The Pattisons were recognized for their philanthropic support of the Institute's James Martin Center for Nonproliferation Studies (CNS), the largest nongovernmental organization in the United States devoted exclusively to research and training aimed at preventing the proliferation of weapons of mass destruction (WMD).
"The Pattisons have been strong supporters of CNS dating back to 2007," noted Vice President for Academic Affairs and Dean of the Institute Jeff Dayton-Johnson. "They established the Pattison Family Endowed Fund to support CNS activities, particularly efforts to achieve a WMD Free Zone in the Middle East." The fund also supports training of and research by young scholars in the nonproliferation field, including pre-and post-doctoral fellows, undergraduates (through the Summer Undergraduate Nonproliferation Program), and high school students (through the Critical Issues Forum).
The Pattisons first became interested in CNS in 2006 after enrolling in a 10-weekend course about setting priorities in one's life. Tom Pattison was raised as a Quaker in Delaware and recalls participating in anti-nuclear weapon demonstrations with his family as a youngster. After attending the workshop, Sarah quit her job as an attorney and the two of them decided to focus on nuclear disarmament and nonproliferation. The Pattisons' first gift in 2007, to support pre- and postdoctoral fellows, helped fund postdoctoral fellow Sharad Joshi, now a professor at the Institute.
Celebrated each November, National Philanthropy Day honors "individuals and organizations whose volunteering and philanthropic engagement have made a difference to our society and our world."
In recognition of the Pattinsons' generosity, a portion of their most recent gift is funding the newly established Sarah and Tom Pattison Prize for Outstanding Service to CNS, which recognizes excellence among the Center's staff. The first two recipients of this award—Critical Issues Forum Project Manager Masako Toki and Office Manager Jill Buntenbach—were announced at a reception later in the day on November 18.
CNS Founding Director Dr. William Potter, Deputy Director Elena Sokova, and other CNS and Institute staff attended both the Philanthropy Day event at the Inn at Spanish Bay and the subsequent reception on campus.
The Pattisons are also members of the Institute's Legacy Society.