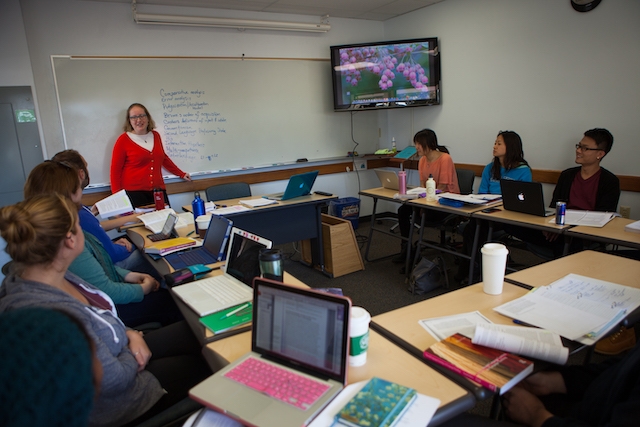 Middlebury Institute Associate Professor Netta Avineri has been awarded a grant by the Consortium for Applied Studies in Jewish Education to study how Hebrew is taught and perceived at American Jewish supplementary schools.
Dr. Avineri will conduct her research along with Dr. Sarah Bunin Benor of the Hebrew Union College-Jewish Institute of Religion and Rabbi Nicki Greninger, director of education at Temple Isaiah in Lafayetta, California.
This study will investigate how Hebrew is taught and perceived at American Jewish supplementary schools. Which types of Hebrew (Liturgical, Biblical, Modern) and which skills (decoding, recitation, conversation) are emphasized? Phase one is a survey of 250+ school directors around the United States, focusing on rationales, goals, teaching methods, curricula, and teacher selection. Phase two involves classroom observations and stakeholder surveys at 10 schools with diverse approaches. Researchers will first determine how teachers teach, use, and discuss Hebrew and how students respond. Researchers will then survey students, parents, clergy, and teachers about their rationales, goals, and perceptions of their program. This project represents a collaboration among researchers and practitioners committed to theorizing how Hebrew is and might be approached in American Jewish educational institutions. Understanding this will enable future interventions to better align goals and methods among educators, congregations, and families, thereby strengthening diaspora Hebrew education.
Professor Netta Avineri hosted the workshop "How to ACE Your Language Classroom" at the Penn State Center for Language Acquisition Language Forum in October.